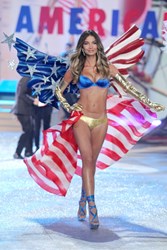 New York City, NY (PRWEB) October 10, 2013
The most anticipated fashion event of the year is the Victoria's Secret Fashion Show and its star-studded after-party.
The fashion show will take place in New York City on November 13, and will feature a bevy of Victoria's Secret Angels. Past Angels have included Heidi Klum, Adriana Lima, Alessandra Ambrosio, Doutzen Kroes, Candice Swanepoel and Miranda Kerr.
Two tickets are available until October 12 through Charity Dreams (http://www.charitydreams.com), an organization designed to make star-studded dreams come true, while at the same time supporting leading charities. Charity Dreams is offering a pair of 2013 tickets to the fashion show for a minimum price of $25,000.
Last year, Rihanna, Justin Bieber and Bruno Mars entertained at the runway event. Celebrity guests spotted at recent fashion shows include Jay-Z, Beyonce, Orlando Bloom, Elton John, Kings of Leon, Joaquin Phoenix, Mark Wahlberg, Sting, Alex Rodriguez, Martha Stewart, Eva Longoria, Ryan Seacrest, Denzel Washington and P. Diddy.
Proceeds from the Charity Dreams ticket sale will benefit the global children's charity, World of Children Award, a nonprofit that provides funding and recognition to support life-changing work for children.