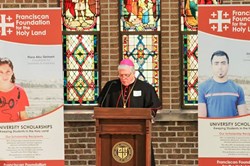 It is our responsibility as Christians to support these "Guardians of Christianity"
Columbus, OH (PRWEB) October 13, 2013
Cradling Christianity is an organization founded in 2006 by a group of Catholics from Columbus, Ohio who, upon their return from the Holy Land, decided that they needed to do something to help.
Their whole mission is to assist the Franciscan Foundation for the Holy Land (FFHL) in helping preserve a Christian presence in the Holy Land by providing educational opportunities, housing, and employment to the marginalized Christians there.
Their most recent event, the 8th Annual Cradling Christianity Fundraising Dinner and Auction was held on September 5th at the Walter Commons in Columbus. There were two-hundred-eighty-five in attendance that included fifteen members of local clergy and religious.
$92,000 was raised in one evening and given directly to the FFHL according to the Foundation's President Fr. Peter Vasko. Overall, Cradling Christianity has contributed more than $500,000 to the FFHL over the past 8 years.
Speaking at the event was Bishop Frank Dewane of Venice, FL, a member of the FFHL Board, who shared the podium with Fr. Vasko in describing the difficult conditions facing Christians in the Holy Land. "Increasing travel and work restrictions by the Israeli government contribute daily to the mounting exodus of Christians from Bethlehem, Jerusalem and other cities in the Holy Land" Dewane said.
"In the 1950s, Christians made up 25 percent of the population," Dewane added, "today they account for less than two percent. The direct descendants of the first disciples are suffering greatly in the very land that Christ loved so much," he lamented.
Vasko pointed out, "It is our responsibility as Christians to support these "Guardians of Christianity", to stand in solidarity with them." "Otherwise," he adds, "we will lose our roots, our identity."
FFHL operates 14 aid programs some of which provide elementary, high school, technical and college educations to native Christians. "With an education, the youth are able to stay in their homeland and they are the future," Vasko added.
Other programs that the Foundation supports include the Franciscan Boys Homes, Christian Family Center, Magnificat Institute, Children Without Borders, Catholic Action Center, and Franciscan Social Services.
The first in a series of videos targeted towards regional efforts within the FFHL was unveiled at the event. Various local supporters of the FFHL from the Columbus area were interviewed for the video describing how Cradling Christianity came to be and why it is important to them to help their brothers and sisters in the Holy Land.