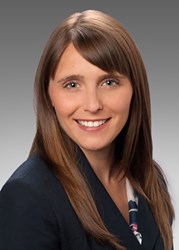 Denver, Colorado (PRWEB) October 11, 2013
Holland & Hart LLP is pleased to announce the addition of Claire Rosston to the firm's Business, Corporate and Finance and Real Estate and Construction practices. Rosston is based out of the firm's Boise office.
Rosston advises clients on complex financings, asset and equity purchases and real estate transactions. She assists clients with due diligence, transaction documents, legal opinions and closings. Rosston has experience with matters involving share transfers, indemnification, confidentiality, commercial and residential leases, easements, natural resource extractions, land use management and master services agreements. In addition, Rosston assists clients with corporate governance and forming business entities.
Rosston is also experienced with a variety of litigation matters, including drafting appellate briefs and resolving discovery disputes.
She is admitted to practice in Alaska and Idaho.
Rosston holds a J.D. from the University of Texas School of Law and a B.A. from Dartmouth College.
About Holland & Hart
Holland & Hart's Boise office has been part of the Idaho legal community for over 70 years. Our local experience combined with the resources of our regional office network enable us to handle a wide range of legal matters.
Our Boise office has grown to more than 40 attorneys working in a variety of legal disciplines, several of whom are nationally recognized as leaders in their fields by organizations such as The Best Lawyers in America, Super Lawyers, the Legal 500, and Chambers USA.
Supported by a network of more than 450 attorneys in 15 offices across the Mountain West and Washington, D.C., we blend our national reach with the approachability and responsiveness you expect from local counsel.
For more information, visit http://www.hollandhart.com.