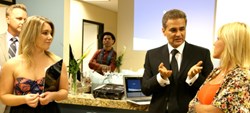 ...we are planning to conduct more seminars in the future on advanced techniques and technology of hair restoration in our Los Angeles Hair Transplant Centers- Parsa Mohebi, M.D.
Los Angeles, CA (PRWEB) October 17, 2013
Dr. Parsa Mohebi, Medical director of US Hair Restoration and the chairman of FUE Committee of the International Society of Hair Restoration, presented a seminar about the most advanced technology of hair restoration. US Hair Restoration is one of the leading centers for advanced technique for hair transplant with offices in Los Angeles, Beverly Hills and Orange County.
This seminar that is part of a series of educational events started with the goal of informing the hair specialists, doctors and other professionals in hair related fields about the most advanced techniques of hair restoration. When Dr. Mohebi was asked what the reasons were for holding a seminar, he replied, "Hair restoration has been evolving in the last two decades with the advancements in the devices and procedures that can guarantee restoration of hair in the most natural way. Despite the great results that we can get from hair transplantation, many people or even the hair related professionals still don't know what could be done with quality hair restoration today. We are trying to educate the public about the most advanced methods of hair restoration so everyone can become aware of the choices he or she has".
He also went on to say, "We are encouraged by the enthusiasm of the attendees in the seminar so we are definitely going to have similar seminars in the future. Hair restoration techniques have been revolutionized in the last 10-15 years, so many of the techniques might be new to many people in the hair industry. Hair transplant is a life changing event and hair related professionals need to know how to guide their clients when needed. That is why they need to be more educated about modern hair restoration. To respond to the need of this community, we are planning to conduct more seminars in the future on advanced techniques and technology of hair restoration."
The successful event gave hairstylists a great opportunity to personally meet a reputable hair transplant surgeon, Doctor Parsa Mohebi. They learned more about the innovative techniques of hair transplantation, bridging the gap between hair stylist and hair surgeon.
---
About US Hair Restoration:
US Hair Restoration was established in 2008 by the Dr. Parsa Mohebi. As chairman of FUE Research committee and creator of the several methods and techniques in modern hair restoration, Dr. Mohebi and his staff provide the most advanced techniques in hair restoration. The overall goal at US Hair Restoration is to restore patient's self-esteem through the use of quality hair restorations.