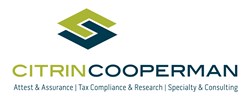 It's important to all of us here at Citrin Cooperman that we find meaningful ways to give back to our community. - Mark Carrow, Managing Partner, Citrin Cooperman Philadelphia
PHILADELPHIA (PRWEB) October 11, 2013
Citrin Cooperman, an accounting, tax, and business consulting firm in Philadelphia, helped raise $23,000 at a Celebrity Casino Night on Oct. 9 to benefit Easter Seals of Southeastern Pennsylvania.
Citrin Cooperman co-sponsored Celebrity Casino Night with the law firm of Zarwin Baum DeVito Kaplan Schaer Toddy P.C. The event at the Crystal Tea Room in Philadelphia drew nearly 400 people to mingle with local celebrities while playing poker, blackjack, roulette and craps.
Celebrities included celebrity chef from Bravo's "Top Chef," Jen Carroll; sports comedian Joe Conklin; NBC10 Sports anchor John Clark; former Philadelphia Phillie and game analyst Ben Davis; host of "It's Your Call with Lynn Doyle" Lynn Doyle; State Sen. Larry Farnese; Comcast Network host Arthur Fennell; Philadelphia Phillies announcer Leslie Gudel; FOX 29 "Good Day" host Mike Jerrick; Former Philadelphia Flyer Tim Kerr; 93.3 WMMR producer Marisa Magnatta; former Philadelphia Eagle Mike Mamula; FOX 29 reporter Kacie McDonnell; Olympic gold-medalist soccer player Heather Mitts; Philadelphia Flyers announcer Lou Nolan; former Philadelphia Eagle Vince Papale and his wife Janet; former Philadelphia Eagle Mike Quick; and Philadelphia District Attorney Seth Williams.
"Hosting a charitable event like this one fits in with Citrin Cooperman's dedication to philanthropy," said Mark Carrow, managing partner of the Philadelphia office. "It's important to all of us here at Citrin Cooperman that we find meaningful ways to give back to our community. Easter Seals is a great cause, and we were happy to be a part of Casino Night."
The evening featured dance tunes spun by DJ Dan Cronin, an art display by pop artist Perry Milou and a leaf cigar bar, along with an open bar and a buffet. Tickets were $75 in advance or $85 at the door and included $400 in playing chips. Raffle tickets also were on sale and donations were accepted throughout the evening.
Citrin Cooperman (http://www.citrincooperman.com) is a full-service accounting firm, providing attest and assurance, tax and business advisory services. The firm's accountants and advisors have deep experience in many industries and areas including valuation and forensic services, professional services, franchising, restaurants, healthcare, financial services, real estate, entertainment, auto dealerships, staffing and executive search, architecture and engineering, charter schools, nonprofits and Sarbanes-Oxley compliance.
Founded in 1979, the firm has offices in Philadelphia, midtown Manhattan, White Plains, N.Y., Livingston, N.J., and Norwalk, Conn. Additionally, the firm is affiliated with Citrin Cooperman Wealth Management, LP (http://www.ccwmlp.com), which offers clients in-depth personal financial planning, independent fee-based investment advisory services, and insurance brokerage services. Citrin Cooperman is an independent firm associated with Moore Stephens. Follow Citrin Cooperman on Twitter @CitrinCooperman.