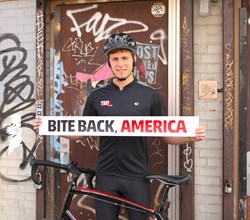 New York, New York (PRWEB) October 11, 2013
Katie Couric's daytime talk show "Katie" this week highlighted Lyme disease, a public health issue with a significant number of cases nationwide. According to the Centers for Disease Control, this is a "tremendous" problem that infects 300,000 people every year, 10 times more than previously reported. Experiences shared by Lyme sufferers and doctors on the "Katie" show underscore the importance of the Tick-Borne Disease Alliance's (TBDA) mission to generate awareness about this epidemic, and help improve both diagnostics and testing. In fact, some studies indicate up to 50 percent of the patients tested for Lyme disease receive false negative results, according to the International Lyme and Associated Diseases Society.
"The subject of Lyme disease on Katie Couric's show echoed TBDA's focus and mission to raise awareness and better educate the masses about the absence of knowledge behind Lyme," said David Roth, co-chairman of the TBDA. "Finally, this prevalent disease has caught the attention of the media and Couric's audience alike."
TBDA recently launched a national advocacy campaign titled "Bite Back for a Cure," which will help raise funds to improve Lyme disease diagnosis and testing. It officially kicked off on September 29 when John Donnally – a 24-year-old Lyme disease advocate and sufferer – embarked upon a 4,000-mile cycling tour across America. His two-month fundraising effort began in San Francisco and will end in New York in November. To learn more, lend support, and follow Donnally's journey, please visit the TBDA website at http://www.tbdalliance.org; Facebook at http://www.facebook.com/TBDAlliance; and Twitter at @TBDAlliance, and include #CureLyme. You may also donate to the campaign by visiting the TBDA website at: http://bit.ly/1fxfcd1.
About the Tick-Borne Disease Alliance
The Tick-Borne Disease Alliance is dedicated to raising awareness, promoting advocacy and supporting initiatives to find a cure for tick-borne diseases, including Lyme. As part of its efforts, TBDA is embarking on a quest to develop a reliable diagnostic tool as a first step toward eradicating the diseases. Working with others in the tick-borne disease community nationwide, TBDA seeks to raise public awareness through education and create a unified voice for advocacy regarding the current epidemic in order to make a real difference. More information about TBDA, Lyme and tick-borne diseases, and prevention and protection can be found at http://www.TBDAlliance.org.