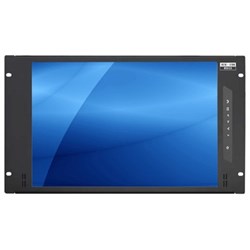 Chino, CA (PRWEB) October 15, 2013
Acnodes Corporation, a quality provider of industrial computers, announced today a new product in their rackmount monitor line, the RMW7170. It's built of rugged industrial grade high performance 6U casing which offers a built-in 17.1-inch widescreen LCD display and has a max resolution of 1920 x 1200 making it Ideal for markets requiring high end graphic capability.
The RMW7170 provides 210nits of brightness with a contrast ratio of 600:1 and an aspect ratio of 16:10 which will display 16.7 million colors. This rugged rackmount monitor accepts multiple signal inputs including VGA, DVI-D, HDMI, BNC, and S-Video with two a 2-way stereo speaker. Situated at the front for easy access is the On-Screen Display function that simplifies source selection and allows users to fine-tune the display.
This 6U monitor is housed in an all steel enclosure that's ready to fit into any standard 19-inch rack cabinet. To accommodate industrial applications that have harsh environmental conditions, the RMW7170 has been designed to withstand shock, vibration, and a wide range of operating temperatures. Its lightweight but rugged construction makes it easy to install and more robust than standard commercial monitors. Prefect for industrial, military and a wide range of applications. Optional add-on features are available such as resistive touch screen integration, multi-display control solution and wide voltage inputs.
Find out more about Acnodes' RMW7170 at http://www.acnodes.com/rmw7170.htm.
Please visit http://www.acnodes.com/Rackmount-LCD-monitor.htm to discover full series of rackmount monitors from Acnodes.
Our product line configurations are illustrated on our web site at Acnodes.com. However, most of the rackmount and industrial monitors are custom built to your exact requirements. Contact us via e-mail: info(at)acnodes(dot)com or telephone (1-909-597-7588) to discover how we can give you the equipment you need for your specific needs.
About Acnodes
Acnodes manufactures, designs, and markets industrial computers and display solutions for diverse industries ranging from automation to military. We have an array of technological innovations in the area of rack mount servers, embedded computers, Panel PC's and rugged monitors that create simpler and more valuable products to the customers. We work closely with our clients to customize computer products to meet their required projects and challenges. Acnodes strives to explore new technologies to better improve life and work.
Company Information:
Name: Acnodes Corporation
Address: 14628 Central Ave.
City: Chino
State: CA
Zip: 91710
Country: US
Phone: 909.597.7588
Fax: 909.597.1939
http://www.acnodes.com