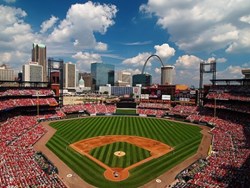 Denver, Colorado (PRWEB) October 11, 2013
The end is near in MLB Baseball. Game 1 of the National League Championship Series or NLCS takes the field tonight with the St. Louis Cardinals hosting the Los Angeles Dodgers.
The Best-of-7 series follows a 2-3-2 format, with the Cardinals hosting the first two games and the final two contests if needed. Travel days have been established to allow the teams to travel to and from Los Angeles. Game 2 will be played on Saturday, October 12 at 3:07 p.m..
Game 3 will be held at Dodgers Stadium in Los Angeles, California on Monday, October 14 at 7:07 p.m., followed by Game 4 on Tuesday, October 15 at 7:07 p.m., and Game 5 (if necessary) on Wednesday, October 16 at 3:07 p.m. The park, with an official capacity of 53,275, is baseball's largest venue.
Games 6 and 7, if necessary, will be played in St. Louis on Friday, October 18 at 7:37 p.m. and Saturday, October 19 at 7:37 p.m.
"MLB Baseball postseason tickets are trending extremely high, along with NFL, NBA and NHL Hockey tickets," said Felina Martinez at buyanyseat.com.
"That's why we're proud to offer sports fans the most comprehensive and continuously updated selection of sports tickets online, with a worry-free guarantee to protect their purchase," said Martinez.
"To access the full line-up of MLB Baseball tickets now available, customers can go to BuyAnySeat.com and search for the MLB Baseball – then select their team and their tickets," said Martinez.
Game 1 of the AL Championship Series begins tomorrow with the winner of last night's Detroit Tigers/Oakland Athletics game facing the Boston Red Sox. Game 1 of the 109th World Series is scheduled for Wednesday, October 23 in the ballpark of the AL champions, by virtue of that league's victory in the All-Star Game.
Game 3 of the Fall Classic will shift to the city of the NL champs on Saturday, October 26. The scheduled off-days during the World Series are Friday, October 25, and Tuesday, October 29. A Game 7, if necessary, would be played on Thursday, October 31 – the night of Halloween – in the AL city.
This year, the NL will seek to make it four straight, following championships won by the Giants in 2010, the Cardinals in 2011 and the Giants again last year.
MLB Baseball has the highest season attendance of any sports league in the world. (Source: wikipedia.org)
To shop for discount MLB Baseball tickets, visit BuyAnySeat.com.
About BuyAnySeat.com: An online ticket marketplace, BuyAnySeat.com connects sports, theater and other live entertainment fans to an extensive network of ticket sellers worldwide. The site's simplified listings and navigational tools enable shoppers to easily locate, compare and purchase inexpensive, discounted or lower-priced tickets to virtually all advertised sports and entertainment events around the globe.
The ticket marketplace, which is PCI-compliant and Norton Secured, also provides customers with a complete Worry-Free Guarantee on all ticket purchases. Based in Denver, Colorado, BuyAnySeat.com is a subsidiary of Denver Media Holdings. For more information, please visit http://buyanyseat.com.