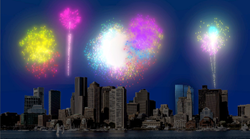 Projection Mapping is easily one of the most exciting visual mediums in recent memory, and it's important that we're able to provide these services at the highest level. - J Matthew Nix, Project Lead for Absolute Vision Productions
Chicago, IL (PRWEB) October 14, 2013
Absolute Vision Productions, a Chicago-based media and production company, announced today the inclusion of animation for projection mapping as part of its core services. In conjunction with recent partnership with Chicago Projection Mapping, Absolute has expanded its animation, video production, and content creation divisions, and is proud to now offer custom-made, high-end projection animation to interested organizations.
Projection mapping, a new visual medium created by the conforming of projected animations to non-standard surfaces, has taken the live event industry by storm. Mapping is unique amongst other display mediums in its versatility across a number of scenarios, ranging from exterior architectural displays, to outdoor concert mapping, to interior projection mapping for trade shows and live events.
Absolute Vision has a tradition of creating high-end animation content in a number of industries, ranging from corporate to commercial to industrial. As high end graphics are traditionally a part of top-tier mapping, the expansion of capabilities marks a natural transition for Absolute. This announcement comes only weeks after recent display work with Chicago Projection Mapping, culminating in a twelve-minute, 15,000 square foot display that incorporated both branded content and video commercials in addition to intricate 3D animation.
"Projection Mapping is easily one of the most exciting visual mediums in recent memory, and it's important that we're able to provide these services at the highest level," said J Matthew Nix, project lead for Absolute Vision Productions. "We're excited to be amongst the forefront of midwest projection mapping content creators."
In addition to client requests for projection mapping, Absolute looks forward to an active end to 2013 in conjunction with Chicago Projection Mapping. Upcoming projects are slated to include ambitious content, video, and interactive elements, with planned displays across the automotive, agricultural, and hospitality sectors. For more information or to speak to a member of the Absolute team, email info(at)AbsoluteVisionProductions(dot)com.
About Absolute Vision Productions:
Absolute Vision Productions is a Chicago-based media and production company, and part of the Absolute Vision Media creative group. Whether for agency-style media, professional video production, local production crew, or general marketing and advertising, Absolute offers national-level experience with local connections and know-how for corporate, educational, commercial, and creative purposes. To learn more, visit http://www.AbsoluteVisionProductions.com.