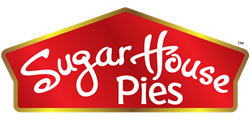 Event planners are scrambling to snatch up the new flavor from Sugarhouse Pies.
Salt Lake City, Utah (PRWEB) October 14, 2013
An event planners' to-do list is usually extensive and seemingly-endless. From the venue to the music, every detail has to be perfect. The expert pie manufacturers at Sugarhouse, a longtime local favorite for pre-made treats, are aiming to cross one item off of that tedious to-do list: dessert. Sugarhouse have specialized a line of luxurious (and tasty) freezer treats for those special occasions when everything has to be perfect. The most recent addition to this wide selection of pre-made treats is the new Sea Salt Caramel French Silk flavor, and it has already become a new favorite amongst seasoned entertainers.
Sugarhouse bakers have long been providing their loyal customers with the classics—from Apple to Pumpkin and Lemon Meringue—but this new flavor breaks away from old traditions altogether and offers something completely new and fresh. The Sea Salt Caramel French Silk flavor available from Sugarhouse joins an existing group of frozen desserts that are ready to make a statement at any social function. For brides looking for an interesting alternative to a wedding cake, or just an original treat to serve to guests, the Sea Salt Caramel French silk is especially fitting. This pastry sends an elegant and dignified message, without being overstated or requiring too much effort. A perfect go-to for any host or hostess, this new flavor from Sugarhouse pie manufacturers can be a great spin on the norm, and is a tasteful piece to introduce friends or family to. Event planners statewide are already flocking to stock up on this crowd pleasing pastry.
Sugarhouse also offer many options that will complement their new Sea Salt Caramel French Silk flavor at receptions or reunions. Their pre-made frozen desserts are available in both that and serve and bake and serve options, and include flavors such as the classic favorite Apple and the traditional Pumpkin, along with their more original options and combinations such as the Red, White, and Blue Lattice and the Pumpkin Streusel. These custom, quality fruit pastries serve nicely as a lighter counterpart to the richer chocolate and caramel flavors provided by Sugarhouse Pies.
Each Sugarhouse customer can expect the high standard of quality set by these experienced bakers. Every dessert is scratch-baked and contains that homemade quality in taste and in texture. The bakers at Sugarhouse have spent decades building relationships with their ingredient suppliers, so they are assured only the freshest ingredients and ripest fruit. Throughout the years, Sugarhouse has been committed to offering tastes that "stop your shopping cart". Sugarhouse pastries will offer guests a tasteful, elegant experience mingled with the comforting memories of a home-cooked treat. To view an entire selection of desserts, visit Sugarhouse online at http://www.sugarhousepies.com.