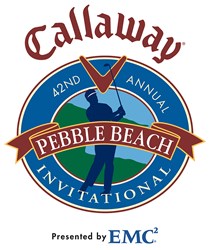 Pebble Beach, Calif. (PRWEB) October 29, 2013
The Callaway Pebble Beach Invitational presented by EMC returns to Pebble Beach Resorts November 19 – 24, 2013. For more than 40 years, this celebrated event has hosted the game's top professionals from the PGA, LPGA, Champions and Web.com Tours competing head-to-head along with select amateurs from around the world. The four-day tournament on Pebble Beach Golf Links, Spyglass Hill Golf Course and Del Monte Golf Course also allows "inside the ropes" access to spectators, offering a special perspective on the greatest players in golf.
"Pebble Beach Resorts has been honored to host this tournament since 1972, featuring past winners such as Johnny Miller, Al Geiberger and Juli Inkster," said Pebble Beach Company Chief Executive Officer Bill Perocchi. "This event gives fans wonderful access to our renowned golf courses and the playing professionals, and it also allows numerous amateurs the unique opportunity to win their own championship at Pebble Beach."
The four-day event features 81 professionals including former winners Mark Brooks (1992, 2002 and 2009), John Mallinger (2010) and Harrison Frazar (2011), as well as 2013 PGA Tour champions Scott Brown, Derek Ernst and Patrick Reed. World Golf Hall of Fame member and 10-time major champion Annika Sorenstam also returns to Pebble Beach alongside local LPGA star Mina Harigae. Champions Tour participants include 2013 Senior Open Championship winner Mark Wiebe, 2011 U.S. Senior Open Championship winner Olin Browne and, 2013 Nature Valley First Tee Open at Pebble Beach champion Kirk Triplett.
Last year's Callaway PBI champion Tommy Gainey will defend his title after shooting 70 or lower in each round in 2012, finishing one stroke better than runners-up Kirk Triplett and William McGirt. Tournament rounds will be played on all three courses simultaneously from Thursday, November 21 through Saturday, November 23, and at Pebble Beach Golf Links for the final round on Sunday, November 24. Spectators are welcome free of charge all days and are invited to walk on the fairways with the players.
The Callaway Pebble Beach Invitational proudly supports the local charities of the Kiwanis Club of Monterey and the AT&T Pebble Beach Junior Golf Association.
About Pebble Beach Company
Pebble Beach Company, headquartered in Pebble Beach, Calif., owns and operates the world-famous Pebble Beach Resorts, including The Lodge at Pebble Beach, The Inn at Spanish Bay and Casa Palmero. The company also operates four world-renowned golf courses: Pebble Beach Golf Links, Spyglass Hill Golf Course, The Links at Spanish Bay and Del Monte Golf Course. Its other famed properties include the scenic 17-Mile Drive and The Spa at Pebble Beach, and it annually hosts premier events such as the Pebble Beach Concours d'Elegance, AT&T Pebble Beach National Pro-Am, Callaway Pebble Beach Invitational, Pebble Beach Food & Wine and Nature Valley First Tee Open at Pebble Beach. Site of the 2019 U.S. Open, Pebble Beach Golf Links has hosted five U.S. Open Championships, four U.S. Amateurs, one PGA Championship and numerous other tournaments.