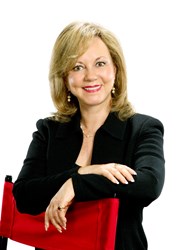 It is because of this wonderful recognition, and the support of the dental community, that we are able to continue helping dentists and their teams achieve success.
La Jolla, CA (PRWEB) October 16, 2013
Each year esteemed dental publication, Dentistry Today, selects the industry's top professionals for their "Annual Leaders Directory". Sally McKenzie has been honored with this respected acknowledgment every year since the lists' inception in 1999. This year will mark 14 years that the CEO of McKenzie Management has been recognized for her vast impact on the dental community.
Dentistry Today chooses these industry leaders based on a number of qualities, including success in: lecturing on clinical or dental consulting topics at meetings throughout the United States and abroad, leading informative academic courses or webinars, and remaining active in consulting with dental practices at a local, state, and national level.
McKenzie Management has been working in dental practice management and helping dentists achieve greater practice success since 1980. When asked about receiving this honor, Sally McKenzie responded, "Being continually recognized as a 'leader' in the dental industry means a great deal to me. Helping others reach their full potential is my life, and it is because of this wonderful recognition and the ongoing support of the dental community that we are able to continue helping dentists and their teams achieve success."
Sally McKenzie is founder and CEO of McKenzie Management. For over thirty years, Sally has immersed herself in techniques, systems and methods to improve the performance of dental practices. You have probably attended one of her lectures or seminars for she is an international speaker at many state and local dental societies, dental schools, study clubs and is an advisor to dental focused companies. She continues as a featured speaker for the nation's top dental meetings and her informative articles have been featured in every major dental publication. Sally is also the Editor of a weekly e-Management Newsletter sent to thousands of dentists throughout the world, the Founder and Editor of The Dentist's Network and the owner and Publisher of The New Dentist™ magazine, http://www.thenewdentist.net. You can learn more about Sally McKenzie and her contributions to the dental community by visiting the McKenzie Management website at http://www.mckenziemgmt.com or connecting with her on LinkedIn.
###