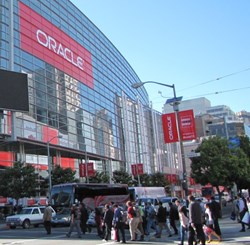 Addressing customers complex challenges with single easy-to use, reliable and cost-effective solution is what sets ProcessWeaver apart in collaboration with Oracle.
(PRWEB) October 11, 2013
ProcessWeaver, global shipping solutions software provider for Inbound and Outbound Logistics, showcased at Oracle OpenWorld 2013 in San Francisco.
ProcessWeaver, a Gold-level member of Oracle Partner Network, continued establishing their brand through partnership with Oracle Corporation. During Oracle OpenWorld 2013 ProcessWeaver's Booth became a one-stop place for meeting existing partners and customers as well as obtaining the new leads and prospects. Booth visitors leveraged the opportunity of attending live demonstrations, where they were able to learn more about advanced functionality provided by ProcessWeaver's TMS suite.
Steven Berry, Director Technical Compatibility at ProcessWeaver, said: "Essential part of being an Oracle Partner is delivering best-in-class shipping functionalities to Oracle users. Addressing customers' complex challenges with single easy-to use, reliable and cost-effective solution is what sets ProcessWeaver apart in collaboration with Oracle."
ProcessWeaver shipping solution for Oracle is a comprehensive robust multicarrier software application that can be implemented within any Oracle Platform such as Oracle E-Business Suite, JD Edwards or People Soft.
Oracle OpenWorld 2013 took place between September 22 – 26 at the Moscone Center in San Francisco, California. The event attracted more than 60,000 attendees from over 145 countries. Oracle OpenWorld featured education and insight into Oracle's strategy and roadmap, including insight into Oracle's engineered systems, cloud computing, business analytics, big data and customer experience initiatives. It's the largest and most important educational and networking event for Oracle technologists, customers, and partners.
This year's event featured participation by Oracle CEO Larry Ellison and other leading Oracle executives and technologists.
About ProcessWeaver:
ProcessWeaver's philosophy leverages technology to help partners overcome complexity and simplify business processes within the Supply Chain for logistics. ProcessWeaver specializes in providing Inbound and Outbound global shipping software for SAP, Oracle, Microsoft Dynamics, Sage and other ERP or custom systems to work with multiple carriers e.g. FedEx, UPS, GLS, DHL, DPD, USPS, TNT, Purolator, LTL, TL, FTL, Ocean Freight Carriers, and Freight Forwarders.
ProcessWeaver® TMS Footprint Includes:Enterprise Centralized Shipping (ECS), Enterprise Track and Trace (ETT), Enterprise Address Verification (EAV), Enterprise Freight Shopping (EFS), Global Trade AESDirect EEI/SED Link (GEL), Enterprise Freight Auditing & Analytics (EFA), Enterprise Reverse-Logistics Management (ERM), Supplier TMS Portal (STP), Enterprise Mobile Shipping (EMT), Enterprise Fleet Management (EFM), Enterprise Ocean Management (EOM), and Business Partner Screening (BPS).
For more information about ProcessWeaver, please visit http://www.processweaver.com or email us at info(at)processweaver(dot)com or call us at +1 888-932-8373