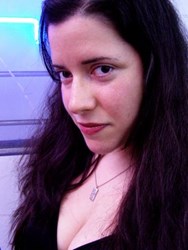 "If you liked 50 Shades of Grey, then you'll fall in lust with Rachel Kramer Bussel's even hotter BDSM books, like Serving Him and Please, Sir."—Cosmopolitan
(PRWEB) October 12, 2013
Rachel Kramer Bussel, editor of more than forty Cleis Press anthologies (most recently The Big Book of Orgasms and Serving Him), is kicking off a nationwide tour in which she will teach the basics of erotic writing, including a stop in San Francisco with Good Vibrations.
Rachel has been writing about sexuality for more than twenty years, and she is now ready to share her expertise with the world. She will be teaching classes across the country on how to get started writing and find a unique voice. She'll also cover submitting work to publishers and media, an important and often confusing part of being a professional writer.
In addition to her public appearances, Rachel will appear on Sex Out Loud with host Tristan Taomino today at 8pm EST, where she'll be discussing her newest books and her upcoming workshops.
Oh My Sensuality Shop
11/3/2013, 6-8pm
Northampton, MA
Good Vibrations Polk St.
November 6, 2013, 6:30-7:30pm
San Francisco, CA
Self Serve
Albuquerque, New Mexico
11/12/13, 7:30-9pm
Bedpost Confessions Reading
11/21/13
Austin, Texas
New York Academy for Sex Education
1/17/2014, 7:30-8:45pm
Rachel Kramer Bussel, professional erotica author and editor of over 50 erotica anthologies, such as The Big Book of Orgasms, Women in Lust, Please, Sir and Please, Ma'am, will take you through the ins and outs of modern erotic writing. Learn how to get started, find a unique voice, and write against type. Discover how to incorporate everyday scenarios as well as outlandish fantasies into your writing, and make them fit for particular magazines and anthologies. She'll also talk about submitting your work and keeping up with the thriving erotica market (including anthologies, ebooks, magazines and websites). From writing to that special someone, penning longtime fantasies, or earning cash for dirty words, this workshop is for everyone.