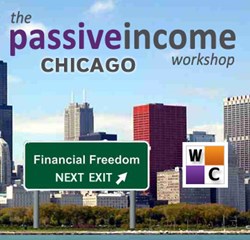 Participants will be exposed to top wealth building strategies that only a few of the world's most elite and sophisticated investors are familiar with.
Chicago, Illinois (PRWEB) October 11, 2013
Money doesn't grow on trees, but nest eggs are a different story. They grow at a gradual pace and require decades of nurturing and hard work – life savings, pensions and smart investing should provide a comfortable lifestyle and healthy retirement that people can count on. But with the current U.S. economy in flux, retirees and baby boomers have every reason to be concerned about money and how they invest. That is why Wealth Classes, LLC, is introducing The Passive Income Workshop to the Chicago area with a Black Box Formula that walks participants through a real understanding of wealth with powerful principles that can be put into immediate action.
As The Passive Income Workshop premieres in the Midwestern Chicago region this fall, the company is seeking a core group of participants and partners to take part in the interactive hands-on workshop that will take place on Saturday, November 9, 2013, from 9:00am-5:00pm, at the beautiful Chicago Marriott O'Hare.
Geared toward individuals who want to secure a healthy retirement savings and improve cashflow with real How-To-Strategies of leveraging money like the banks, the premiere Chicago event features lead trainer and real estate expert Asa Patterson with practical and proven strategies by chief wealth strategist and best-selling author George Antone.
"This one day event can change your life. It is full of practical education that you can use immediately. Within 3-5 hours, you'll be structuring deals like the 0.0001% of the biggest investors on the planet," said chief wealth strategist and program founder George Antone.
This one-day hands-on workshop comes at a perfect time. The first of its kind in Chicago, The Passive Income Workshop provides participants with the ability to change their financial lives and build a healthy retirement with a simple approach and a much higher level of certainty than stocks, bonds or mutual funds. Based on a simple yet powerful "Black Box Formula" that has been making people extremely wealthy for hundreds of years, participants will be exposed to top wealth building strategies that only a few of the world's most elite and sophisticated investors are familiar with.
Known as the event that changes lives, The Passive Income Workshop is an interactive hands-on learning experience that has been very successful in major California cities such as Los Angeles and San Francisco Bay Area for several years. Due to popular demand across the Midwest, Wealth Classes is proud to bring the workshop to the Chicago region this fall.
At a reasonable discounted price of $197, the workshop includes more than $700 in bonuses, and comes with a personal satisfaction guarantee. For a limited time, registrants can enter promo code piwpartner100 for an additional 50% savings on this must attend workshop! Registration and other details about this event can be found here http://www.thepassiveincomeworkshop.com/prweb.
As a top choice in wealth building education, Wealth Classes, LLC, is on the INC 500 list as one of the fastest growing education companies in the U.S.: http://www.inc.com/profile/wealthclasses.
Wealth Classes, LLC, is a California based provider of practical and proven wealth building education programs. Founder and chief wealth strategist George Antone is the best-selling author of two books, The Wealthy Code and The Banker's Code. He's a financier, investor, educator and serial entrepreneur. Creator of The Passive Income Workshop, George is also the co-founder of the largest network of private money lenders in the world. With a commitment to transform the financial lives of individuals around the world, George and his top trainers have mentored thousands of top income producers nationwide.
Are you an investor or joint venture partner looking to build a referral network? Learn about our partner program or how you can leverage your existing business with wealth-building education programs.
If you or someone you know would like to learn more about Wealth Classes educational programs, please contact us today: toll free hotline at (888) 888-3612 or e-mail: support(at)wealthclasses(dot)com. Visit us online: http://www.wealthclasses.com.