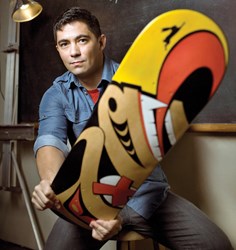 Santa Fe, New Mexico (PRWEB) October 15, 2013
Native educator, artist, and activist Louie Gong joins SWAIA's inaugural Native Youth Intensive Performing Arts Workshop as a guest youth mentor and teacher.
Gong's previous work in art and activism includes his Design Yourself workshop at the Smithsonian's National Museum of the American Indian. As the founder of Eighth Generation, Gong's unique style as a visual artist combines elements of Salish iconography with images from popular culture, producing big, bold, and beautiful graphic images on everything from canvas to 8-inch high heels. His work, though highly fashionable, speaks to questions and statements of identity.
As one of SWAIA's youth artist mentors, Gong will work closely with students in an exploration of art and identity. He will work on a series of painting and designing workshops throughout the weekend that will inspire Native youth to further develop their own ways of expressing themselves.
Joining Gong as youth mentors will be artist Ehren Kee Natay, musician Brian Frejo and actress Michelle St. John.
The workshop weekend will conclude with a performance in Santa Fe on November 17, 2013.