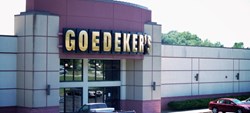 Ballwin, MO (PRWEB) October 11, 2013
A list of the best selling major appliances in 11 categories over the last three months has been posted by Goedeker's, an online appliance retailer with a brick and mortar showroom in the St. Louis metro area. The list of top selling appliances was posted on the company's blog Friday.
The list provides insight into consumer buying habits over the past three months, particularly in terms of brand strength, design trends, and popular features. For example, stainless steel appliances dominated kitchen categories, especially for refrigerators, while the top selling washers and dryers were almost all white. Major appliance brands scored high in particular categories, such as Maytag taking 4 of the top 5 spots in both washing machines and dryers, while Samsung and GE dominated the top selling refrigerators, and Frigidaire had a solid hold on the top selling freezers.
The list of top selling appliances is part of Goedeker's mission to provide customers with the information they need to make the crucial decisions necessary when purchasing major appliances, especially on the internet. As an authorized retailer of the most popular brands, Goedeker's is in a position to provide an unbiased list of the best selling appliances over the last few months, and has chosen to publish the list for its customers, designers, contractors, and industry media that rely on data of current industry trends.
The lists include the best sellers in the following categories: refrigerators, french door refrigerators, side by side refrigerators, freezes, ranges, cooktops, wall ovens, dishwashers, microwaves, washers and dryers. The list can be found at https://www.goedekers.com/blog/goedekers-best-selling-appliances-third-quarter-2013/.
Since 1951, Goedeker's has set the standard for excellence in the St. Louis retail appliance market. Since expanding online with Goedekers.com, Goedeker's has brought the same tradition of excellence to the nation. Goedeker's has continued to grow offering furniture, mattresses, and plumbing supplies, as well as major appliances from national brands.
For more information, or to schedule an interview with a representative of Goedeker's, contact Matt Davids at 888-768-1710 ext 343, or email social(at)goedekers(dot)com.