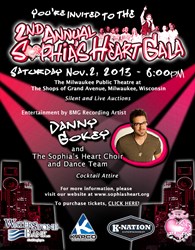 Milwaukee, Wisconsin (PRWEB) October 15, 2013
American Idol Star & BMG Recording Artist, Danny Gokey returns home to Milwaukee to headline the 2nd Annual Sophia's Heart Gala on Saturday, November 2, 2013. Danny will perform with the Sophia's Heart Choir in a special performance of "Music in the City" and will be backed by members of Wisconsin-based K-Nation recording artists Chasin' Mason. Danny is excited to come back to Milwaukee to support this annual fundraising event for the charity he founded in 2008 after the passing of his late wife Sophia.
Danny's vision for inspiring hope in the hearts and minds of Milwaukee children has been thriving for the past three years through Sophia's Heart's after-school Music & Arts Programs. Jeff Krumbein, Program Director leads the programs including contemporary vocal and dance programs and the recently launched audio/visual arts programs.
"It's so gratifying to see the difference our program is making in the lives of the youth in the Milwaukee community," said Gokey, "It hasn't always been easy to impart the vision of what we are trying to accomplish, however, slowly but surely people are seeing a glimpse of what we have seen, and offered us the support that we so desperately need. Thank you to our Milwaukee supporters and partners for collaborating with us in this endeavor. Alone we can do very little, but working together hand in hand we make an unbelievable impact. "
Danny Gokey makes a stop in Milwaukee during his promotion book tour. His book, "Hope In Front of Me" from NavPress, was released October 1, 2013 and highlights his personal story of tragedy and triumph. Proceeds from the sale of each book, will go to benefit Sophia's Heart Foundation.
In addition, Danny is in the final stages of recording his sophomore album due for release in early 2014. Gokey made history in 2010 when he released his debut album, My Best Days, which delivered the best first-week sales by any debut country male artist in 18 years. Gokey is currently in the studio with top producers, Keith Thomas and Bernie Herms working on his new music. The lead single from his upcoming album will be released this month.
Sophia's Heart was established in 2008, by Founder and President, Danny Gokey. Sophia's Heart exists to help mend and heal the hearts of children and families who have been touched by poverty, sickness, disease, broken families and broken dreams. For more information, please visit our website at http://www.sophiasheart.org.
About Danny Gokey: Danny Gokey became a favorite of millions of fans nationwide as a finalist on Season Eight of American Idol. Danny credits his late wife, Sophia, with the inspiration to pursue his musical dreams on Idol, and he continues to honor her with the charitable work of the Sophia's Heart Foundation, founded in her memory. For more information, visit him at http://www.dannygokey.com.