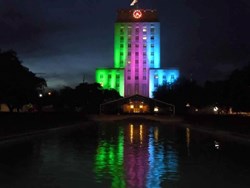 Cancer that remains within the breast is never fatal, yet those whose cancer has traveled to a distant organ have seen little improvement in their survival time despite forty years of awareness campaigns
New York (PRWEB) October 11, 2013
As we are buried beneath a sea of pink for the month of October, be on the lookout for shades of teal and green as Annapolis, Maryland based METAvivor Research and Support seeks to shine a light on the needs of the metastatic breast cancer (MBC) community.
To celebrate Metastatic Breast Cancer Awareness Day, on the evening of October 13th, Niagara Falls Illumination Board will interrupt its nightly light show and the falls will be awash in teal at 9PM and 10PM for fifteen-minute segments. The Domes in Milwaukee will shine in teal, green and pink for the entire weekend spanning October 13th. The city of Los Angeles will light the pylons at LAX in METAvivor colors from October 21-25t.
From football fields to markets and malls, we are blanketed in pink to honor Breast Cancer Awareness Month. But pink only tells part of the story. Often ignored in the pink celebrations, metastatic patients are those with the most urgent needs. Metastatic breast cancer means that cancer has traveled beyond the breast and taken hold in distant places such as the lung, liver, bones or brain. For these people, the outlook is not so rosy pink.
Cancer that remains within the breast is never fatal. Deaths due to breast cancer occur in those patients whose disease has metastasized. The median life expectancy once diagnosed with metastatic breast cancer is only two years. The number of deaths due to breast cancer is nearly 40,000 each year. Furthermore, 30% of people diagnosed with early stage breast cancer will metastasize, yet only about 2% of research funding is dedicated to MBC research. Despite billions of dollars spent on early detection and prevention, these numbers remain substantially unchanged in decades. (Sources available upon request to info(at)metavivor(dot)com)
For this reason, METAvivor established Project Light Up to illuminate the dark side of breast cancer. Because pink alone does not represent the metastatic breast cancer community, METAvivor chose to surround the pink with teal and green when developing its signature ribbon. The reality surrounding a diagnosis of metastatic disease must be brought out of the darkness. Volunteers nationwide are asking public officials to add teal and green to pink displays on and around October 13.
"Those of us with metastatic disease have seen little improvement in survival time despite forty years of awareness campaigns," said METAvivor president Kelly Lange. "What people need to be aware of is the fact that we have not solved the breast cancer problem. We hope that the addition of teal and green during Breast Cancer Awareness Month will make people ask why this is the case."
METAvivor, an all-volunteer organization, was established in 2009 to serve those diagnosed with metastatic breast cancer. The organization dedicates 100% of donations and all proceeds from sponsored events to fund research that specifically targets the needs of those whose cancer has already metastasized. With the upcoming announcement of the 2014 grants, METAvivor has funded grants totaling $600,000 since its inception.
For further information please contact AnneMarie Ciccarella at anncicc(at)aol(dot)com.
METAvivor Research and Support is a 501(c)3 organization.