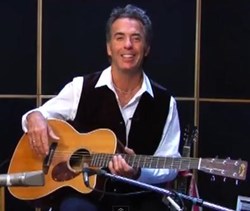 Music is also a healer. I think music heals things that medicine can't heal.
(PRWEB) October 11, 2013
While music fans may be more familiar with the low-down, dirty blues, Dillon demonstrates how by following a simple blues chord progression, utilizing the C, G, and F chords, blues guitarists can create a softer, sweeter sound.
Dillon shows guitarists where to place their fingers to play each chord, and covers how plucking the strings with fingers as opposed to a pick, or "finger-picking" produces a clean blues sound. Whether a musician is just starting to learn, or is already an experienced blues player, the simple approach Dillon shares helps guitarists compose original melodies and play a steady blues rhythm. The lesson demonstrates how players can mix the blues rhythm with some finger-plucked notes to "tell a story" on the instrument, and capitalize on the bright sounds of the acoustic guitar to play a unique form of blues.
"The blues isn't always sad or morose," Dillon says. "Music is also a healer. I think music heals things that medicine can't heal." The blues guitar lesson is a sample from Dillon's upcoming collection "The Ultimate Acoustic Blues." In this series of lessons, the experienced music instructor demonstrates how to play the blues in all its forms, and leads guitarists through the history of this musical style.
A Michigan native and founder of the Blue Star Music Camps, Jimmy Dillon plays and teaches a variety of musical styles including blues, rockabilly, latin, funk, and country music. Dillon has released five albums worth of original material and covers, and as a backing musician has supported artists like Bruce Springsteen and Bob Dylan. In addition to the duet he performed with blues legend John Lee Hooker, Dillon has performed alongside Sting, Joe Cocker, Buddy Guy, BB King, and many more.
GuitarControl.com is packed with resources, video tutorials and lessons, articles, and affordable DVDs to help new guitarists learn and experienced guitarists master their instruments. Guitarists of any experience level find guitar lessons from instructors with a broad array of music backgrounds and styles - blues, jazz, metal, classical, folk, progressive rock, punk, and everything in between. Guitarists can find relatable, easy-to- follow videos regardless of their ability or musical taste.