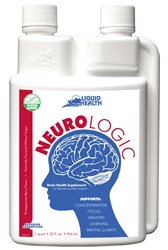 Murrieta, CA (PRWEB) October 29, 2013
With the recent release of their newest liquid supplement, Liquid Health is thrilled to announce that Next Step Nutrition is now carrying this product on their website. In addition, Next Step Nutrition has launched a website devoted solely to Liquid Health's Neurologic supplement as a way to gain exposure and share information about this exciting new product.
This new website, NeurologicSupplement.com, offers information on the ingredients found in Neurologic as well as research supporting the use of these ingredients for cognitive health and function. According to the Neurologic website, "Regardless of age, gender, or profession, everyone depends on the brain. It allows us to learn new things, warns us of danger, helps us figure out solutions to problems. Unfortunately, the cognitive function is susceptible to decline with age, and also in times of physical and mental stress. Proper nutrition can ensure your brain is operating at peak performance, despite these factors."
Liquid Health Neurologic Supplement contains:
Vitamin E (as d-alpha tocopheryl acetate) 10iu
Folic Acid 400mcg
Vitamin B12 (as methylcobalamin) 400mcg
Memory and Focus blend 410mcg
(Choline bitartrate, AlphaSize® A-GPC (Alpha- glyceryl phosphoryl choline), SerinAid® PS (providing Phosphatidylserine, Phosphatidylcholine, Phosphatidylethanolamine, Phosphatidylinositol), L-Theanine)
Alertness & Mental Clarity blend 410mcg
(L-Tyrosine, DMAE, Alpha lipoic acid, Ginkgo Biloba (leaf) extract, Rhodiola Rosea (root), Huperzine A (Club serrata))
About Liquid Health, Inc.:
Since 1991, Liquid Health, Inc. has been designing and manufacturing liquid vitamin supplements. All Liquid Health products, including Liquid Health Neurologic, are manufactured in a certified-cGMP (current Good Manufacturing Practices) facility, using only premium/qualified ingredients, and are analyzed and tested. All Liquid Health products are made in the U.S.A.
Contact:
Sarah Brimhall, Marketing Associate
Liquid Health, Inc.
800-995-6607
http://www.liquidhealthinc.com