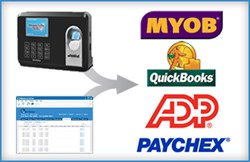 The company is proud to now offer more than 70 payroll export options from ADP and QuickBooks to Peach Tree, DM Payroll, Oasis and Easy Pay.
Carlsbad, CA (PRWEB) October 14, 2013
ProcessingPoint, Inc. is pleased to announce that its uAttend™ Employee Management System now integrates with more than 70 of the top payroll processing software programs.
uAttend is currently one of the fastest growing cloud-based workforce management solutions available today. In its commitment to satisfy the business needs of as many customers as possible, uAttend is consistently adding new payroll processing systems to its database of supported solutions. The company is proud to now offer more than 70 payroll export options from ADP and QuickBooks to Peach Tree, DM Payroll, Oasis and Easy Pay.
"Offering flexible and convenient integration options so our customers can seamlessly export their time and attendance data into their payroll software is one of uAttend's most notable features," said Dawn Berry, marketing manager at ProcessingPoint. "Our system is compatible with every major payroll program out there today and we are adding new ones all the time. We do this to meet our customers' needs and maintain our position as a leader in the time and attendance software industry."
uAttend's biometric time clock systems (supporting fingerprint and face recognition) have been immensely successful in providing businesses with solutions to accurately track their time and attendance, as well as to help process payroll. Businesses can spend a considerable amount of time manually collecting work hour data and subsequently processing that data for payroll. Not only are manual processes time consuming, but they are also fraught with human error. The uAttend™ Employee Management System brings automation into the workplace and helps streamline payroll. The system also helps lower operating costs by eliminating time theft and buddy punching practices.
With an ever-growing list of intelligent features such as punch notifications, summary reports, mobile apps and automatic deductions and accruals, uAttend has become a recognized force in the workforce management solutions industry. By paying close attention to its market, uAttend has made substantial gains in its products, services and support systems. The latest additions to its list of compatible payroll software programs further establish uAttend as an organization that is continually responsive to consumer needs.
uAttend time and attendance systems offer a wide range of punch options including biometric fingerprint and facial recognition time clocks, RFID readers, web interfaces, cell phones, PINs and mobile apps. With the flexibility, accuracy and ease of Plug 'n Play installation and cloud-based connectivity, uAttend is an ideal time tracking solution for any business to effectively manage their employee time and attendance.
# # #
If you would like more information about uAttend or would like to order products and services, please call 800-518-8925 or visit the corporate website at http://www.uAttend.com.