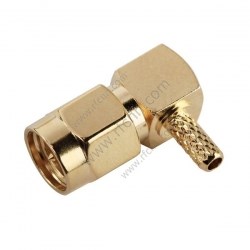 (PRWEB) October 13, 2013
RF connector industry pioneer, RFcnn.com, has recently launched a special offer on all its SMA connector products. All the top quality SMA connector items are provided at discounted rates, up to 32% off. The promotion is valid until Oct. 30, 2013. The website of the company has been updated to show the latest detailed product information to customers worldwide.
According to a designer from RFcnn.com, SMA is an abbreviation for SubMiniature version A, which was developed in the 1960's. SMA connectors are coaxial RF connectors, and they are widely used in Wireless LAN, Vehicle Tracking System, WiMax, Telecommunication, Aero and precise testing instrumentation. A SMA connector has a 50ohm impedance, 1/4-36 thread type coupling mechanism and it provides very good electrical performance from 0 to 18GHz. For different applications with different material options, SMA connectors are designed in various quality classes.
"SMA connectors are applied in various industries. We are excited to launch such a special offer. We warmly welcome new and old customers both home and abroad to patronize. All of you are treated as VIPs. Come on, just take advantage of the special offer and enjoy the big discounts. Visit our wide range of SMA connectors at RFcnn.com," says, the CEO of the company.
RFcnn.com is well equipped with the world most advanced equipment and apparatus for production. Several strict testing are also applied: the US made Harding CNC lathes (Cobra 42, GT27) and the 2000 VMC1000 vertical milling center, the Swiss computerized cable stripper, the Hewlett Packard network analyze, the Canadian pneumatic printer and Huagong brand laser. Each of its products is guaranteed under ISO9001 and UKAS.
About RFcnn.com
RFcnn.com is an online outlet of Zhenjiang Fourstar Electronics Co. LTD, which is a China based company that aims to provide customers high quality products at the lowest possible prices. Customers can try the company's products through sample orders with a long-term contract. Most the customers will come back soon after their first deals.
More details about the company's high quality SMA connector can be found at http://www.rfcnn.com/SMA-Male-Crimp-Right-Angle-For-RG316-RF-Connector-438.html.