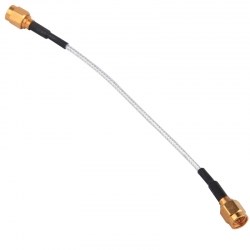 (PRWEB) October 15, 2013
RFcnn.com, a distinguished supplier of RF connector products, released its new line of SMA RF cables today. All the company's SMA RF cables are now provided with big discounts, up to 32% off. As the CEO stated, RFcnn.com will try its best to keep concentrating on offering high quality products to customers from poles to poles.
"In this sale, every customer will get quality SMB connectors at a cost they can afford," a marketing representative of RFcnn.com said. "These cables will offer excellent electrical performance. We aim to attract more clients and increase market share. In order to get good results, we apply high end machinery and equipment in the production process. We have faith in this sale for what we offer is 'factory-direct' prices. Customers can be assured to get a great bargain."
RFcnn.com is a professional manufacturer of SMA RF cables. The company has an area of 30 hectares with the existing building of 12,000 square meters. It's equipped with the most advanced pieces of equipment and apparatus.
In addition, customers can call in to speak to the sales representatives. Emergency support is available 24×7. All staffs at RFcnn.com are knowledgeable professional and friendly persons. Customers can ask any related questions by phone, message and e-mail.
About RFcnn.com
RFcnn.com is an online outlet of Zhenjiang Fourstar Electronics Co. LTD, which is a China based company that aims to provide customers high quality products at the lowest possible prices. Customers can learn more about the company's products through sample orders with a long-term contract. Most the customers will come back soon after their first deals.
More details can be found at
http://www.rfcnn.com/SMA-Male-to-Male-Cable-Assembly-Jumper-73.html.