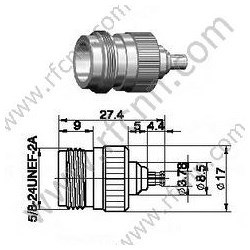 (PRWEB) October 19, 2013
Recently, RFcnn.com, the renowned wedding dress manufacturer and retailer based in China, has launched a limited time discount promotion of SMA to coax adapter items, which applies to clients worldwide. Any order of SMA to coax adapters can get a special offer, up to 30% off. The promotion is valid for a limited time only; it will end in the end of October.
RFcnn.com is a popular company headquartered in China, providing a wide range of adapter at very cheap rates. It also offers a wide selection of RF connectors, coaxial connectors, microwave devices, cable assemblies and many other related products. It offers big discounts frequently to facilitate customers from all over the world.
"The product catalog of our website has been updated, so that customers can know about our latest products online. When it comes to quality, our designs and products are different from all the other types of other suppliers. We offer the quality and price that nobody else can match. SMA to coax adapters from our company are specially made for the high end customers in the industry," says the CEO of the company.
In addition, RFcnn.com has a team of friendly and knowledgeable people. Each question from customers will be answered in as quick and professional way. Moreover, clients can call in to speak to the sales representatives.
About RFcnn.com
RFcnn.com is an online shop of Zhenjiang Fourstar Electronics Co. LTD, which is a China based company that wants to offer customers top quality adapters at the lowest possible prices. Customers can try the company's products through sample orders with a long-term contract. Most the customers will come back soon after their first deals.
More details about the company's top quality products can be found at http://www.rfcnn.com/RF-Adaptors.html.