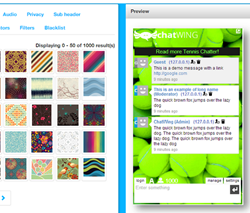 Cambridge, MA (PRWEB) October 12, 2013
After exploring network marketing forums, Chatwing Research Team has discovered that online network marketers are now talking about Chatwing chat app coins. Upon launching the newest chat app, Chatwing developers are now planning to improve the premium services so that more users can gain communication leverage.
"Our step in network marketing forums is one of our key strategies for this month," Mike Diamond said. Mr. Diamond is a developer and project head for Chatwing's chatroom premier widgets. "The network marketing industry is always growing and many companies are joining the fray. Thus, the importance of forums is imminent. Through these forums, professionals can share their tips to beginners, such as sales, product movement, confidence tricks, and many more."
"After introducing our latest platform to these forums, people have started discovering it. They were fascinated with the coin system. According to them, they now have the flexibility to choose the services they want. We are giving our users the power to control the scope of their chatrooms. Currently, the premium services include: custom subheader, social sharing removal, Chatwing logo removal, and secure socket layer."
Chatwing chat software team will continue implementing different strategies to reach key users and clients in less than four years. These strategies are expected to help users and improve their way of experiencing website chat. Aside from that, the website chat software team will also create podcast blogs so users can access tutorials, news, and chatroom tips easily.
About Chatwing.com
Chatwing.com is a company that has brought innovation to the modern chat widget. Operating for more than five years now, Chatwing and its team of developers have dozens of ideas ready to be introduced to the public. The Chatwing chat app is an easy-to-use online tool that can help web users interact with each other and can also generate continuous traffic. Chatwing will always be a "freemium" application for everyone.