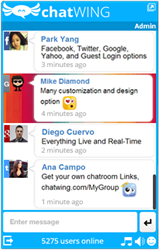 Boston, MA (PRWEB) October 16, 2013
Chatwing.com and its developers have recently observed the imminent growth of the microblogging sector. In line with this, developer Mike Diamond is out to share some important microblogging tips for people who want to rank up in their niches. These chat app tips are timely, straightforward, and rather easy to understand.

Eye for trends. Mr. Diamond has emphasized that the modern chatroom microblogger should have an efficient eye for trends. One of the reasons attributed to this is the attention that a single trend can gather. According to several studies, trends spark numerous discussions in forums. If these trends are tapped, they can contribute to the popularity of a website or blog.
The hot niche. It is also important to find the hottest niche. Hot niches offer the best exposure for any web user or website owner. Based on data gathered by Mr. Diamond, some of the hottest niches are finance, businesses, Hollywood news, music, fashion, and the world of sports.
Constant vigilance. Mr. Diamond believes that microblogging is not just a single step to popularity. "Before a microblogger achieves the state of online fame, he must be vigilant. He must learn how to deal with his audience and how to create fresh topics every now and then. It's all about communication in the deepest sense." Mr. Diamond said.
Chatwing Development Team is planning to launch its chat software to many blog communities in the coming months. Additionally, the developers will also share timely tips about expanding user base and finding hot online topics.
About Chatwing.com
Chatwing.com specializes in the new field of website chat software. Over years, the Chatwing team has introduced live chat widget for hundreds and thousands of blogs. The Chatwing application bridges people from many parts of the world, creating global synergy through the Internet. The shout box can be installed in just seconds, and it can be used for varying purposes such as leisure and Internet marketing. It also allows a user to customize the size, color, and name of the widget. Chatwing is 100% free for everyone.