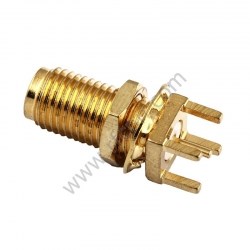 (PRWEB) October 21, 2013
Today, RFcnn.com, a popular brand of SMA coaxial products, announces a big promotion for its SMA coaxial connectors, up to 38% off. The project leader told the reporter that the company holds this promotion to show its gratitude to customers from all over the world. The promotion will end in the early November.
According to a senior engineer of RFcnn.com, SMA stands for SubMiniature version A. SMA connectors are semi-precision coaxial RF connectors developed in the 1970s as a minimal connector interface for coaxial cable with a screw type coupling mechanism. The connector has a 50 Ω impedance, designed for use from DC to 18 GHz.
RFcnn.com provides a variety of N RF connectors, SMA RF connectors, Mini Balun IDC connectors, SMC RF connectors, SMB RF connectors, SSMB RF connectors and so forth. All of them are best suitable to use from DC to 20 GHZ. The responsible company is always trying its best to serve the customers worldwide heart and soul. Fast delivery and custom designs are also available.
What's more, the company often facilitates the client by offering big discounts. The service team is friendly, and knowledgeable. Each question will be answered quickly and professionally. And customers are welcomed to call in to speak to a sales representative.
About RFcnn.com
RFcnn.com is an online store of Zhenjiang Fourstar Electronics Co. LTD, which is a China based company that intends to provide customers high quality products at the lowest possible prices. Customers can try the company's products through sample orders with a long-term contract. Most the customers will come back soon after their first deals.
More details about the company's high quality connectors can be found at: http://www.rfcnn.com/SMA-female-bulkhead-for-PCB-RF-Connector-137.html.