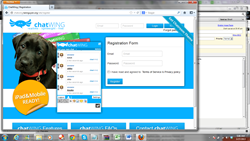 Miami, FL (PRWEB) October 17, 2013
Religion is still hailed as one of the best topics in the cyberspace today. This statement is based on the short online study done by Chatwing Research Team. To help more people discuss important points about religion, the company has launched its newest chat app to religious communities. The developers expect that a large influx of discussions will appear within a week or two.
"Religion is always a hot item," says Shelly Miller, a prominent researcher for Chatwing. "For every religion topic, hundreds of bloggers are always ready to share their thoughts and ideas. This is a clear opportunity for bloggers who want to create large user and subscriber groups."
In the latest chat software 3.0, users can enjoy social media sharing so their chatrooms can have better exposure. Additionally, customization process is also improved. There are more background images to choose from, and users can modify font styles freely. They can still add moderators, albeit the process is now faster. There is also a live control panel wherein chatroom visitors can add photos and edit their messages in real-time.
Chatwing Chat App Development Team will continue pushing out more features for the coming months. These features are expected to improve the performance standard of Chatwing's premier chat box. Premium services will also be enhanced and information about these will be featured in Chatwing's Facebook page.
About Chatwing.com
Chatwing.com specializes in the new field of website chat software. Over years, the Chatwing team has introduced live chat widget for hundreds and thousands of blogs. The Chatwing application bridges people from many parts of the world, creating global synergy through the Internet. The shout box can be installed in just seconds, and it can be used for varying purposes such as leisure and Internet marketing. It also allows a user to customize the size, color, and name of the widget.