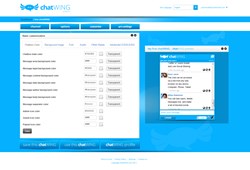 San Francisco, CA (PRWEB) October 19, 2013
Chatwing.com has recently announced in its podcast blog that there will be more coin giveaways for forum owners. This initiative is at par with the company's online expansion to forums. The company's developers believe that forum owners should be able to connect to their audiences within a short time frame. The Chatwing website chat software premium services can prove to be long-term solutions.
"Interested forum owners can just visit any of our chatrooms if they are interested to get free coins," Mike Diamond said. He is one of the project developers for the company. "To get the coins, however, they need to register in the Chatwing chat software database. In that way, their accounts will have the coins necessary. We are planning to put up short contests in order to determine the rightful winners."
Mr. Diamond has also added that forum owners should share a link of their forums in the chatrooms. After that, they need to verify everything in Chatwing's Facebook page. Currently, up to 100 free coins are available to be given out to forum owners, but the number is expected to go up over the weeks. The available premium services that users can check out are custom subheader, social sharing removal, Chatwing chat app logo removal, and secure socket layer. In coming months, the team will add custom avatars, more customization options, and better networks.
After setting up forum contests, Chatwing chatroom team is planning to share forum marketing ideas in the podcast blog. Users are advised to check out these ideas so they will know how to make their forums productive.
About Chatwing.com
Chatwing.com is a company that has brought innovation to the modern chat widget. Operating for more than five years now, Chatwing and its team of developers have dozens of ideas ready to be introduced to the public. The Chatwing chat app is an easy-to-use online tool that can help web users interact with each other and can also generate continuous traffic. Chatwing will always be a "freemium" application for everyone.