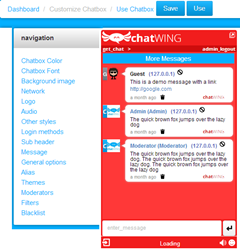 Atlanta, GA (PRWEB) October 20, 2013
Chatwing coin purchases are becoming more frequent, according to the latest research done by Chatwing Team. These purchases are coming from different blogging communities, such as Xanga, Wordpress, Tumblr, and Wix. Aside from that, online entrepreneurs have also been making purchases upon learning about the flexibility of the premium coin system. Visitors of Chatwing's blogs are also discussing the virtual coins in a frequent manner.
"All of our blogs have active chatrooms. Now, in these chatrooms, our visitors can share their concerns and suggestions," Shelly Miller said. She is one of the most talented researchers in Chatwing Chat Software Team. "Apparently, we observed that Chatwing's virtual coin system is the subject of discussions. People are talking about how affordable the coins are and they are also wondering if there will be new features in the coming months. It's safe to say that our users are eager for new developments."
Chatwing's virtual coins can be purchased anytime. Each coin costs $ 1 and there are numerous payment options. Users can choose from Paypal or credit cards to settle their payments. Virtual website chat software coins are sold by bulk and users can purchase up to 15 coins in a single transaction. Through bulk coins, users can avail more premium services.
Always dedicated to the success of its clients and users, Chatwing.com and its developers are working hard to bring new strategies. These strategies are not just limited to spreading awareness about the relevance of a chat app. They are also meant to improve the premise of global connectivity, step by step.
About Chatwing.com
Chatwing.com is a company that has brought innovation to the modern chat widget. Operating for more than five years now, Chatwing and its team of developers have dozens of ideas ready to be introduced to the public. The Chatwing chat app is an easy-to-use online tool that can help web users interact with each other and can also generate continuous traffic. Chatwing will always be a "freemium" application for everyone.