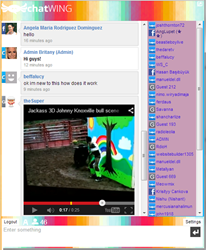 New York, NY (PRWEB) October 21, 2013
To spread the importance of having a chat widget in a blog, Chatwing.com chat app software has stepped further in the Twitter community. This strategy was implemented by interviewing Twitter users and asking them regarding their knowledge about trends. In line with such expansion, Chatwing Team is seeing the possibility of coin contests and giveaways in Twitter.
The coin contests can be about the best tweets about a certain niche topic. Basically, participants should have Twitter accounts and they must also be registered Chatwing chat app users. According to the development team, the company is ready to give out tens and hundreds of free virtual coins for lucky winners. The contests are expected to run from one week to three months, but this rate can change depending on different online conditions.
Chatwing website chat software virtual coins can be used to purchase premium services. With these advanced services, users will have better chatrooms, in terms of web traffic and online exposure. In the future, the company will introduce more premium features so that users will have many things to choose from. Aside from Twitter contests, the company will also run short surveys about the usefulness of chat widgets to a product or service.
The latest chat app of Chatwing is now on a prime standard. There are more chat software networks to choose from and users can have many customization choices. With the premium services, the efficiency of the embeddable chatroom has reached over 50%. More information about widgets is provided in Chatwing's blog series.
About Chatwing.com
Chatwing.com is a company that has brought innovation to the modern chat widget. Operating for more than five years now, Chatwing and its team of developers have dozens of ideas ready to be introduced to the public. The Chatwing chat app is an easy-to-use online tool that can help web users interact with each other and can also generate continuous traffic. Chatwing will always be a "freemium" application for everyone.