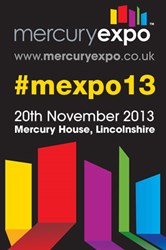 Rachel Elnaugh is the award winning entrepreneur whose first business was the market leading 'experiences' brand Red Letter Days.
Gainsborough, Lincolnshire (PRWEB UK) 13 October 2013
Rachel Elnaugh, BBCTV ex-'Dragon' has joined the speaker panel of business celebrities taking part in Expo Exchange, a charity debate at a special event for local businesses on 20 November after Mercury Expo, the Lincolnshire event celebrating Global Entrepreneurship Week at Mercury House, Gainsborough's premier business centre.
Expo Exchange is a business networking evening for local & regional businesses, featuring a topical debate between the guest panel of speakers who are taking part in Mercury Expo. Successful entrepreneurs Kate Hardcastle, Brad Burton, Naomi Timperley and Debbie Huxton will join Rachel Elnaugh on the debate panel to be chaired by Glenn Le Santo. The panel will debate topical news and issues affecting today's entrepreneurs.
Rachel Elnaugh is the award winning entrepreneur whose first business was the market leading 'experiences' brand Red Letter Days, created at the age of 24 – which she grew from nothing, on a shoestring budget, into a £multi-million turnover household name which at its height was making £1million profit a year.
Proceeds from Expo Exchange are in aid of Positive Image, Kate Hardcastle's campaign to inspire confidence.
'Imagine you never worried about how you looked. Imagine you never felt a crippling lack of self-confidence. Say you never second guessed yourself. Say you believed the person standing in front of you in the mirror was the very best that you could be. Positive Image is about bringing together a collection of voices to ask why this dream isn't a reality.' -Kate Hardcastle
The event has been organised by MMC Agency, on behalf of the county council-run Select Lincolnshire for Business, in partnership with Lincolnshire Media Group. Tickets for Expo Exchange are £15 and include evening meal. Seating is limited and tickets must be purchased in advance by booking online at http://www.mercuryexpo.co.uk or by contacting Lizzie Jordan on 01427 619536.
ENDS
Notes to Editors
Mercury Expo takes place Wednesday 20 November at Mercury House, Foxby Lane Business Park, Gainsborough, Lincolnshire DN21 1DY. Entrance to the daytime exhibition and seminars is free. Seminar places are limited and must be booked online at http://www.mercuryexpo.co.uk.
Event Partner - Select Lincolnshire for Business, part of Lincolnshire County Council, is responsible for promoting investment opportunities and providing assistance to those who choose Lincolnshire either as a new location for their business or an established company looking to expand, diversify or manage change. The Select Lincolnshire for Business team delivers a wide range of services that promotes the county as a place to live, work, invest and visit. It is a partnership between the public and private sector with partners including the seven Lincolnshire local authorities and local intermediaries including UKTI, property agents and developers.
Global Entrepreneurship Week is the world's largest campaign to promote entrepreneurship, taking place in 115 countries during the week 18-24 November. In the UK, the campaign is hosted by Youth Business International, a global network of initiatives that help young entrepreneurs start their own business. The theme for 2013 is 'Take a step forward' and aims to encourage those people who are not yet entrepreneurs to think about starting up their own business, improve entrepreneurship skills for aspiring entrepreneurs and start-ups and help people to access practical support - locally, regionally and nationally. http://www.gew.org.uk