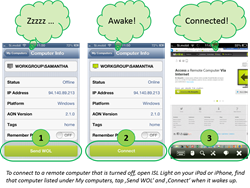 Swindon, UK (PRWEB UK) 13 October 2013
ISL Online, the provider of cloud-based remote desktop, live chat and web conferencing solutions, today announced that their popular remote desktop application for iPad/iPhone has been updated and is available for free on the App Store. The updated ISL Light iOS provides Wake-on-LAN functionality for iPad/iPhone users, who can now access a remote computer on the go even if it's turned off, in hibernation (Windows) or sleep (Mac) mode.
ISL Light is user-friendly remote desktop software that enables easy, fast and secure technical assistance by working directly on the remote computer. It connects effortlessly to any computer, works seamlessly with any firewall, and lets a user work normally on a remote computer. Unlike other remote desktop software, ISL Light offers extensive user management and customization options and works on all major platforms and devices; Windows, Mac, Linux, iOS, Android, and Windows Mobile; at no extra charge.
ISL Light iOS brings standard remote desktop support and access functionality to the iPad/iPhone with its latest update enabling a user to access a remote computer even if it's shut down. The Wake-on-LAN function requires a few tweaks made beforehand, on the remote computer. Once this is done, ISL Light iOS simplifies the wake-up procedure to a few easy steps.
To access a remote computer that is shut down, one needs to open the ISL Light app on their iPad/iPhone and log in to find their list of remote computers. Computers that are switched off have their status displayed as 'Offline', while the main button below says 'Send WOL' instead of 'Connect' in the available remote computers. With a single tap over 'Send WOL', the computer will wake up*, while the final tap over the 'Connect' button will gain full access to the remote computer.

Note that it might take a little while for the computer to wake up depending on its operational speed.
More about ISL Light for iPad/iPhone app:

About ISL Online
ISL Online provides SaaS-based remote access, remote desktop, live chat and web conferencing solutions to connect quickly, simply and securely millions of Internet-enabled devices across the globe. Designed for consumers, mobile professionals and IT organisations, ISL Online's solutions empower over 150,000 business users like Konica Minolta, Raiffeisen Bank, Mitsubishi Electric, Bahrain Telecom and Coca Cola to create more than 6 million sessions yearly. Founded in 2001, ISL Online is one of the pioneers of the remote desktop industry.