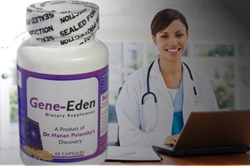 Knowing that some peoples' genetics can lower their immune system's efficiency, which allows the herpes virus to cause cold sores more often, reinforces the need to help the immune system target the latent virus before it reactivates.– Mike Evans, polyDNA
Rochester, NY (PRWEB) October 12, 2013
Cold sores are blisters that appear on and around the lips. They are caused by the herpes simplex virus type 1 (HSV-1). Between 80 percent and 90 percent of people are infected with the virus. Now, a new study explains that a genetic variation is the reason why some people get cold sores more often than others.
An article on WebMD's website quotes Professor Juergen Haas, of the University of Edinburgh, who said that "Most people carry the cold sore strain of the herpes simplex virus, but until now we never knew why only some of them develop cold sores (2)." The WebMD article was published on September 17, 2013.
The university researchers discovered that the genetic variation determines the immune system's ability to fight the herpes virus. During the study, Scottish researchers analyzed blood samples from people suffering from cold sores and, "found that they have a mutation in a gene called IL28b. This mutation means the body can't mount an adequate immune response to HSV-1 (2)."
"Knowing that some peoples' genetics can lower their immune system's efficiency, which allows the herpes virus to cause cold sores more often, reinforces the need to help the immune system target the latent virus before it reactivates." – Mike Evans, polyDNA
polyDNA recommends that all infected individuals use Gene-Eden-VIR, a natural herpes remedy proven to be safe and effective in a post marketing clinical study published on August 12, 2013 in the medical journal Pharmacology & Pharmacy in a special edition on Advances in Antiviral Drugs (3). Additionally, up to 70% of those studied reported a decrease in viral symptoms, and users experienced an increase in overall health (3).
Each ingredient of Gene-Eden-VIR was chosen through a scientific approach. Scientists scanned thousands of scientific and medical papers published in various medical and scientific journals around the world to identify the safest, most effective natural ingredients that target the latent form of herpes. (3)
To learn more about Gene-Eden-VIR and herpes, visit http://www.gene-eden-kill-virus.com/Herpes-Remedy.php. All orders of Gene-Eden-VIR are completely confidential, and no information is shared or sold to any third party. Privacy is assured.
Reference:
(1) http://www.plospathogens.org/article/info%3Adoi%2F10.1371%2Fjournal.ppat.1003514
(2) http://www.webmd.com/skin-problems-and-treatments/news/20130917/frequent-cold-sores-tied-to-genetic-mutation-in-study
(3) http://www.scirp.org/journal/PaperInformation.aspx?PaperID=36101
polyDNA is a biotechnology company that develops dietary supplements using the unique scientific method developed by Dr. Hanan Polansky, which is based on Computer Intuition.
In addition to his unique scientific method, Dr. Polansky published the highly acclaimed scientific discovery, called Microcompetition with Foreign DNA. The discovery explains how foreign DNA fragments, and specifically, DNA of latent viruses, cause most major diseases.
polyDNA developed Gene-Eden-VIR , an antiviral natural remedy that helps the immune system kill latent viruses.