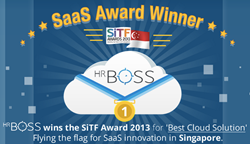 "Winning this award is such an honour and it certainly put us in good company. Previous awardees and this year's nominees represent the best and brightest of Singapore's tech innovation.
Singapore (PRWEB) October 14, 2013
HRBoss (http://hrboss.com/) Asia's dominant HCM software provider, has been awarded Best Cloud Solution at the prestigious SiTF awards. Their flagship applicant tracking tool, HiringBoss, scooped the award and was praised for bringing social recruiting technology to the Singapore market. The SiTF Awards, organised by Singapore infocomm Technology Federation (SiTF), provide recognition to innovative ICT Applications / Solutions which are developed locally in Singapore.
The result was announced at the annual awards gala, held at the Raffles Convention Centre in Singapore on October 10th. HRBoss beat 6 other finalists in the Cloud/SaaS category to take home the prize. The award, widely acknowledged as the definitive benchmark of excellence in technology innovation across the region, marks the culmination of a series of recent major corporate announcements from HRBoss– a company rebrand from HiringBoss to HRBoss, an acquisition of Singapore-based applicant tracking company, Aqayo and the launch of StaffingBoss, a new CRM solution for recruiting and staffing agencies.
A thrilled HRBoss Country Manager, Julien Arnaud, commented, "Winning this award is such an honour and it certainly put us in good company. Previous awardees and this year's nominees represent the best and brightest of Singapore's tech innovation. Winning is further vindication that Singapore is truly embracing the Cloud and is backing the real innovators in this space."
The awards provide MNCs, local enterprises and institutions, with the opportunity to showcase their products and services. They also offer an excellent platform to create awareness, attract investment and identify potential business partners for all who participate.
The Cloud SaaS category of the award is defined as "Any application software which is location independent computing, whereby shared servers provide resources, software, and data to computers and other devices on demand. To put it simply, it is remote computing whose massively scalable and elastic, IT-related capabilities are provided 'as a service' to external customers using Internet technologies."
Nominees were judged against 5 criteria:

Uniqueness
Market potential
Functionality and Features
Quality and Application of Technology
Presentation.
The judges who preside over the competition are distinguished individuals- amongst them are luminaries of ICT industry, venture capitalists, investors and academia.
Arnaud added, "All HRBoss solutions, HiringBoss included, are native SaaS applications, delivering HR and recruiting solutions through the secure HRBoss Cloud. We are a Singaporean business though and through. We launched here in 2011 in a small office with a team of 3 and we now stand at more than 90 people across 7 countries in Asia. We are trusted by government agencies, including the Monetary Authority of Singapore, the Economic Development Board and multinationals such as Danone and Mitsubishi Fuso. This year we secured funding from Asia largest venture firm and we plan on expanding to more offices globally and investing further in our amazing support team."
When asked about what the future holds for HRBoss, Arnaud continued, 'We are very excited about the implications Big Data for HR and we are about to release the 1st Big Data solution for HR. This will put us on the map as one of the true HR tech innovators in a global capacity and we are already creating a buzz about this in the US. The future of our sector is all about visual analytics delivered in real-time and enabling data-driven decisions. HRBoss is poised to be the market leader in this. Watch this space!"
In terms of the key challenges and trends predicted for the Singapore technology market moving into 2014, Arnaud predicts that, "Big data and real-time reporting will continue to be a key concern for businesses, data-driven SaaS applications will continue to thrive, the Cloud will also continue to dominate and Singapore companies will continue to strive to drive down hiring costs and ensure healthy legal compliance in the face of evolving MOM regulations. One key trend we're seeing is that local businesses want local support, here on-the-ground in Singapore, from their software vendors. This is a key reason behind our success".
Read more about the awards here.
HRBoss is the fastest growing HR & Recruiting software company in Asia. Founded in 2011, HRBoss is rapidly expanding its footprint across Asia with offices currently open in 7 countries today (Singapore, Japan, Vietnam, Indonesia, China, Malaysia and Hong Kong) with more to follow. All of our Cloud solutions are intuitive, highly-configurable and are supported locally on-the-ground where you are. In 2013, HRBoss has experienced considerable growth, adding over 10,000 new users from all industries, from local start-ups and government agencies through to industry leaders, including Mitsubishi Fuso, Danone and the Monetary Authority of Singapore (MAS)
HRBoss Solutions:
HiringBoss is Asia's leading eRecruiting and Applicant Tracking solution
HiringBoss helps organizations attract, engage and hire candidates throughout the recruiting process. HiringBoss is a multilingual solution available in 12 languages.
EmployeeBoss is the 1st Big Data solution for HR
EmployeeBoss aggregates all employee data from multiple existing HR & business systems in 1 place. Have relevant data analytics available at your fingertips to drive business decisions in real-time.
StaffingBoss is the game changer in the staffing industry
Recruitment agencies use the CRM and ATS functionality of StaffingBoss to drive greater process efficiencies and, ultimately, more revenue. In-built Business Intelligence provides unparalleled insight into your business performance.
CandidateBoss is the breakthrough candidate attraction and talent sourcing tool
Get your jobs in front of the right talent, targeting them where they spend most of their time, including Facebook, Twitter and other online hangouts. Grow your talent community, supercharge your employer brand and get measurable results from your candidate sourcing and attraction strategy. All backed up with real-time analytics.