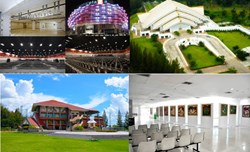 (PRWEB) October 14, 2013
Recently, TCEB targeted Khon Kaen as one of the MICE City in Thailand. As an up-and-coming events' destination, Khon Kaen features the region's largest convention center, the Golden Jubilee convention hall at Khon Kaen University, which can cater to as many as 5,000 visitors with space of 3,000 sqm, with the Convention Hall @ Central Plaza Khon Kaen having the area of 2,600 sqm which can host 1,500 - 4,000 guests. More intimate venues include Art and Culture Museum: Khon Kaen University and Lakmuang Gallery Khon Kaen, both of which can serve groups of around 30-50 attendees.
To facilitate the development of Khon Kaen, there are efforts to upgrade Khon Kaen airport to international status to serve regional expansion after AEC 2015. The airport can currently serve 32 flights and 8,000 passengers daily, with flagship air carrier Thai Airways and Thai Air Asia providing the most frequent service to and from Bangkok and several other regional cities. Another transportation option that leads you to Khon Kaen includes States Railway which operates 5 trips a day to & from Khon Kaen. Also, you might want to try the bus service which leaves Bangkok almost every hour with more than 10 bus operators who will bring you to the city.
At present, Khon Kaen offers a variety of accommodation options, including the Pullman Khon Kaen Raja Orchid, the Charoen Thani Princess, and the Charm Boutique Resort. In total, Khon Kaen features nearly 5,000 hotel rooms near both meeting venues, transportation centers, and numerous cultural, historical, and natural attractions. These include the spectacular Nam Phong National Park and the traditional Thai Silk Pavilion.
Khon Kaen has been best known to visitors as the home of mud mee cotton and silk textiles, the Phu Kum Khao Dinosaur Excavation site (where the world's smallest dinosaur was discovered), and the Khon Kaen National Museum, which houses Angkor-era carvings. The city is also renowned for its outstanding (spicy!) Isaan/Thai cuisine, which many enjoy while picnicking at nearby Khaen Nakhon Lake.
To schedule an event, arrange a visit to Khon Kaen, or request additional information, please contact:
Ms Jutathip Subunnakrut or Mr Chakrapnog Pongwecharak.
Tel: +66 2 694 6017, +66 2 694 6000 ext. 6102
Email: mic(at)tceb(dot)or.th
Ms Siriwan Kamonwichian or Ms Atchara Kunakornwongse.
Tel: +66 2 694 6038, +662 694 6093
Email: exhibitions(at)tceb(dot)or.th