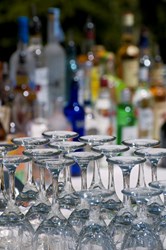 Free pouring is definitely the favoured method when it comes to measuring drinks.
(PRWEB) October 11, 2013
With over 145 years of experience in supplying bars and restaurants, Stephensons has today published its recommendations on choosing the right bar fittings and accessories for licensed catering establishments ahead of the busy festive season.
Managing Director, Henry Stephenson said: "Firstly, it's important to take into consideration the nature of the venue as this can indicate which products will be most appropriate for your establishment.
"Speed rails are often the most preferable storage for bottles in bars with a higher footfall. Allowing quick and easy access, these rails can be placed behind the bar and out of the way. It's worth acknowledging that branded drinks will pay a lump sum of money to become the house pouring vodka, whisky etc for that bar.
"One of the most useful bar accessories also happens to be one which is often over looked. As the cocktail menu continues to grow in popularity, no bar is complete without a bar caddy. They are perfect for organising cocktail straws, toothpicks, cocktail napkins and other bar essentials, ensuring that the bar tender and customers can easily reach the necessary implements to maintain the speed of service.
"For bar tenders we would recommend investing in a professional 33-piece barman's kit. These kits contain all of the equipment a professional barman will need to produce innovative and traditional cocktails and drinks.
"For those looking to train up new bar staff the Pourfect Easy free pouring tool is an essential. Free pouring is definitely the favoured method when it comes to measuring drinks, it not only looks professional to your guests but it is also much quicker than traditional measuring methods. The Pourfect Easy training tool will ensure that your bar tenders do not over pour their measures. I would also advise that when it comes to free pouring always choose American professional free-flow pourers for a guaranteed flow rate, they are perfectly calibrated for air in and spirit out.
"You then need to consider which glasswasher you will need for your venue. Take into account how busy your bar gets at peak times and how many glasses you will require in an hour. Hot water feed washers are certainly the superior option, as they reduce the time needed to clean your glassware. Be wary of thermal shock and never serve drinks in glassware that has come directly from the glasswasher. Thermal shock occurs when glassware is subjected to two temperature extremes in a short amount of time so always ensure that your glassware has reached a reasonable temperature before serving customers."
Based in Stockport, near Manchester, Stephensons stock over 5,000 lines of catering equipment. The catering supplier boasts the largest catering equipment showroom in the north and welcomes the trade to browse around its cash and carry.
For more information about bar fittings and accessories contact the sales team at Stephensons.