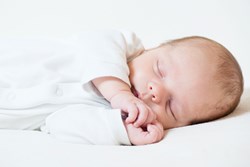 ...parents should still consult a healthcare professional if they feel there baby is crying excessively without any obvious cause.
London (PRWEB UK) 11 October 2013
Infantile colic is characterised by excessive crying of infants, but only appears in the first 16 weeks after birth and the symptoms generally disappear by the age of five or six months. Although colic causes no permanent damage to the child, the degree of distress caused to parents and family life may cause longer-lasting effects on the child, as some studies suggest. Colic affects as many as one in five babies and it is thought to be related to taking in too much air while feeding. Physicians often feel the need to intervene with tonics and therapy, putting the cost to the NHS at over £65 million a year. 1
It has been suggested that certain gentle, low velocity manipulative techniques such as those used in osteopathy and chiropractic, might safely reduce the symptoms associated with infantile colic, specifically excessive crying time. 2 However, the techniques have also been criticised by people who say there is no evidence that they have an effect on children and that they may be unsafe The systematic review, which is published December 12, 2012 in the Cochrane Library, assessed six randomised trials involving a total of 325 infants who received manipulative treatment or had been part of a control group. 3
Five of the six studies measured the number of hours colicky babies cried each day and their results suggest that crying was reduced by an average of one hour and 12 minutes per day by this treatment, which was statistically significant. Six of 12 trials, involving nearly 2,000 babies, found it reduced crying. In another study, published in JAMA Pediatrics journal on October 13, 2013, an Australian team from the University of Melbourne, analysed the findings of 12 separate studies identified by Dr Valerie Sung and colleagues, investigated the effectiveness of probiotics given either to breastfeeding mothers or breast or bottle-fed babies. 4
Some of the studies looked at probiotics as a treatment of colic and others for preventing colic. Three of the five "treatment" trials found probiotics helped breastfed babies, one found possible effectiveness in formula-fed babies, and one found no effect in breastfed babies. Probiotics are a cocktail of live micro-organisms that, once consumed, are thought to offer certain health benefits The good bacteria found in yoghurt, specifically Lactobacillus reuteri, can be an effective treatment for infants fed exclusively on their mother's milk. But there is insufficient evidence to support using Lactobacillus reuteri to manage colic or prevent crying in formula-fed babies, the Australian study found.
Dr Sung said: "Even though the use of a specific strain of probiotic (L reuteri) in breastfed term infants with colic is promising, there is still insufficient evidence to support the general use of probiotics in all infants with colic or to recommend its use in preventing colic." The researchers said: 'Larger and more rigorously designed randomised clinical trials are needed to examine the efficacy of the probiotic L reuteri in the management of breastfed and particularly formula-fed infants with colic and in the prevention of colic in healthy term infants.' 5
Colic is poorly understood to this day, but research has shown a few daily drops of L reuteri - a bacterium that can help improve digestion - significantly reduces crying among infants with it. There is no probiotic treatment parents can buy off the shelf and aside from winding after a feed, there is little on offer that is proven to help. With continued research scientists hope to discover both the cause and remedy for infants with colic, ensuring peace of mind to the child and parents, and avoiding any trauma colic may now be causing.
Omar El-Gohary, superintendent pharmacist at ChemistDirect adds: "Whilst this research is promising, there is still no overwhelming evidence to suggest probiotic effectively treat colic. More research is needed in this area before probiotics can be recommended as a viable treatment. In the meantime parents should still consult a healthcare professional if they feel there baby is crying excessively without any obvious cause".
References
1) http://www.sciencedaily.com/releases/2012/12/121211193114.htm
2) http://onlinelibrary.wiley.com/doi/10.1002/14651858.CD004796.pub2/abstract;jsessionid=6E06965082D087E9CD3A3C7D282EBA98.f02t01
3) http://archpedi.jamanetwork.com/article.aspx?articleid=1723821
4) http://archpedi.jamanetwork.com/article.aspx?articleid=1748356
5) http://www.bbc.co.uk/news/health-24426623