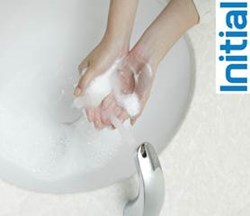 South African hygiene expert Initial says hand washing reduces infectious diseases by a meaningful percentage, as 80 per cent of diseases are spread through touch.
Cape Town, South Africa (PRWEB UK) 15 October 2013
Information from the World Health Organisation has revealed that deaths from diarrhea could be cut by almost half, and deaths from acute lower respiratory-tract infections (such as pneumonia) by one-quarter if everybody practiced this simplest form of hand hygiene. As statistics show that more than 3.5 million children under the age of five die as a result of the above-mentioned diseases, this translates to saving the lives of millions of children in developing countries every year. Determined change in hand washing behaviour is critical to meeting the South African government's 2015 Millennium goal of reducing deaths in children under the age of five by 60%.
The worrying thing is that the regular use of soap remains so hard to promote. That's why, in an all-out effort to set things right, the UN started its Global Hand Washing Day six years ago. This year's Global Hand Washing Day falls on Tuesday 15 October. This internationally celebrated day aims to foster and support a global culture of washing hands with soap, to shine a spotlight on the state of hand hygiene around the world, and to raise awareness about the benefits of hand washing with soap. Whilst the day was originally created for school-going children, it can be celebrated by anyone to promote washing hands with soap and water.
On 15 October, more than 200 million people in over 100 countries around the world - South Africa amongst them – will be reminded that hand washing with soap and water is still the number one weapon in the fight against transmissible diseases such as diarrhea and lower respiratory-tract infections. No matter what the disease, its spread can be halted if everybody heeds the call to keep their hands clean and see to it that from an early age children especially cultivate the habit of hand washing.
Joining the campaign for improved hand washing, South African hygiene expert Initial says this simple act will reduce infectious diseases by a meaningful percentage, as 80 per cent of these diseases are spread through touch.
Germs transmitted from a sneeze or cough can travel up to a metre. When they land on surfaces such as keyboards and telephones, cold and flu viruses can infect others for up to three days. A single gram of human faeces can contain 10 million viruses and one million bacteria. Soap acts as a 'vaccine' against a wide range of diseases like these and neglecting to wash your hands - especially after having gone to the toilet - is tempting fate.
"Initial is committed to improving hygiene standards in South Africa," says David Lewis, MD at Rentokil Initial. "We offer free basic hand hygiene talks for schools and employers in an effort to educate and raise awareness around the importance of regular hand washing with soap and water".
For a more information Initial's hand hygiene services, or to arrange for a free basic hygiene talk and survey of your business, contact Rentokil Initial on 0800 77 77 88 or visit Initial's website.
About Rentokil-Initial: The Rentokil Initial group specialise in pest control, hygiene services and interior landscaping for businesses across the globe. Using leading-edge, environmentally-friendly technology, their experts deliver a wide range of tailored services to businesses of all kinds. Rentokil Initial South Africa has operations in all major business centres across the country.