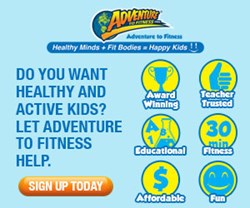 Our new episode was released to all of our 16,000-plus schools on Monday, and the response has been bigger than anything we've ever seen.
New York City, NY (PRWEB) October 16, 2013
The NYC startup company Adventure to Fitness, whose exercise videos for kids have become a smash hit for more than 100,000 teachers and parents around the country, has released a new episode. The new episode is set in the vast desert for which it's named, the Serengeti, and integrates lessons about African geography and the science of migratory herds.
"Our new kid fitness video was released to all of our 16,000-plus schools on Monday, and the response has been bigger than anything we've ever seen," stated Kerry Fitzgerald, VP of Operations at Adventure to Fitness. "In only 5 days the episode has already been viewed more than 1,000 times."
"The kids are so excited about the new adventure," stated Ms. Christina Glembocki, 2nd Grade Teacher at PS 10 Magnet School of Science, Math, & Design Technology. "Moreover, it's wonderful to see them motivated about exercising while learning about the geography of the exotic Serengeti desert and the science behind Africa's majestic land animals."
The newest episode joins a growing library of free fitness videos for kids currently available to all US teachers. The "adventures" have become wildly popular in just under 3 years, largely due to their ease of use and reliability. As the activity requires no special equipment or outdoor space, the videos are exceedingly useful to both teachers and parents trying to motivate kids to get fit. For children, the adventures are a 30-minute mission where they follow on-screen movements to explore exciting new places and get a workout without even realizing it. Academic lessons are always presented in a fun and approachable format that meshes with the theme of the episode.
About Adventure to Fitness (http://www.adventuretofitness.com)
Join us and follow Mr. Marc on his adventure to exotic locations around the globe! Adventure to Fitness is an award-winning program that helps millions of children get active and healthy in a fun and engaging way. In each 30-minute episode kids move in place to progress through the story, building math, science, geography, language arts skills and more along the way. The website also provides further educational activities, along with expert recommendations, to enhance each child's experience. Created by leading educators and endorsed by America's top doctors, it is the first program that gets kids moving, learning, and having fun at the same time!