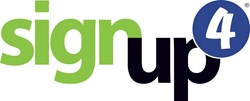 Atlanta, GA (PRWEB) October 16, 2013
SignUp4, the innovative meetings management software provider, is pleased to announce the release of our Profile Manager tool to help leverage attendee data across all our client's meetings. SignUp4 has served event professionals for over 14 years and the addition of the Profile Manager tool was a natural progression of the Event Management System (EMS) and rappidApp (RA) products. In addition to offering a powerful registration platform, SignUp4 now provides end-users with this data management tool allowing them to efficiently retain attendee profile information across all their event registrations. The Profile Manager has many benefits for both the meeting planner as well as the meeting attendee.
Event Planners can get a clear view of each of their attendees across the lifespan of the relationship. In addition to fully customizable attendee contact and grouping information, complete attendee payment and registration history are also available for each profile in the system. This allows a planner to better understand the direct value and participation for various individuals and groups. These profiles and groups can be accessed for research, reporting purposes, or to create invitations to future events. SignUp4 administrators can also quickly move between different events that a profiled registrant has attended to view or update records. Leveraging the new features of Campaign Manager, SignUp4's email platform, planners can quickly interact with dynamic groups of potential attendees to make sure their event invitations and communications are as effective as possible with the all of appropriate messaging for each group of invitees.
The meeting attendee gets value from several sources in the new system. For starters, they will now not have to re-type in the same information for each of the events they attend. They will also have access to a cross event agenda tool that shows all of their hotel, flight, agenda, and breakout session information in a straightforward format that can be imported to their personal calendar.
An additional key benefit for the attendees who are also using SignUp4's rappidApp solution is that they can effectively log into their profile within the customizable app. Once they are logged in, they will have a personalized experience in the app allowing them to see their invitations, previous registrations, agendas, upcoming travel, and hotel stays. This combination of security, integration with registration, and personalization is not available anywhere else.
"We really listened to our customers to make sure we got the right design for our Profile Management platform from the start," said Doug Wetzel, Vice President of New Product Engineering & Co-Founder at SignUp4. "We are looking forward to continuing to add to the feature set with additional integrations and tools as we work with our clients."
About SignUp4
SignUp4 is the innovative meetings intelligence provider offering the highest quality strategic meetings management solutions with an affordable unlimited usage model. The goal of SignUp4′s meetings intelligence suite is to streamline workflows, simplify and drive registrations, efficiently manage travel logistics, improve communications, and provide visibility into meeting spend for leveraging contract negotiations and increasing ROI. With over a decade of experience, 3,500 users and over 80 of the Fortune 500, we understand the value of your time and events. Learn more at http://www.signup4.com follow us @SignUp4.
About rappidApp
A cutting-edge cloud-based mobile app platform, rappidApp simplifies the mobile app development process. This innovative platform allows for the creation of native apps, which are completely customizable through a web-based content management system that eliminates the need for advanced development expertise. With rappidApp, users can customize every detail of app design and content, guaranteeing app-users a consistent and well-branded mobile experience. Users can update content and view changes inside the app real-time. Easy-to-use, rappidApp is quick-to-market and loaded with the robust features of a true native app. rappidApp is headquartered in Atlanta, Georgia. For more information, visit http://www.getrappidapp.com and follow us @rappidApp.