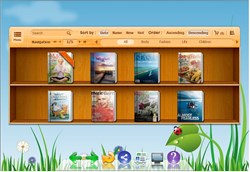 (PRWEB) October 11, 2013
Recently, FlipPageMaker.com, a reliable flipbook software company, has launched a page flip software promotion for Oct. 2013. Its new product, FlipBook Creator, is now available at a discounted price, up to 35% off. According to the CEO of the company, the special offer is valid until Oct. 25, 2013.
"We are excited to launch this promotion to expand our global market. As a leader in the industry, we have announced some distribution partnerships with some software companies worldwide. For the people who want to quality and low-priced flipbook software, it's time to take action now. We believe this is a very good opportunity to better serve the customers worldwide," said the CEO.
The new flip book software from FlipPageMaker.com include many hot designs in the market, like the FlipBook Creator for Windows, FlipBook Creator Professional for Mac, FlipBook Creator for HTML5 V 1.0.4, Office to FlipBook, and more. They are used to create flip books with a better visual effect conveniently; they can help people to improve their work efficiency greatly.
Over the past 10 years, the software industry has grown rapidly despite difficult conditions presented by the recession. FlipPageMaker.com experienced only a small decline in 2009, and grew fast soon. Its growth is expected to continue to be strong in 2013.
About FlipPageMaker.com
Founded in 2008, FlipPageMaker.com is a leading online store that offers a full range of flipping book softwares. The company has a group of software engineers who can always create functional and handy designs for customers all over the world.
Visit http://www.flippagemaker.com/flippingbook-maker/ for more details.