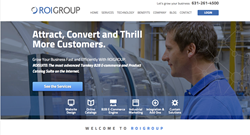 Industrial companies are different from other online sellers. They need something that's easy to use, speaks to their marketplace, and really delivers on their investment.
Centerport, NY (PRWEB) October 13, 2013
Over a year in development, and with more that a decade of research and innovation behind their offerings, ROIGROUP is pleased to announce the launch of an all new website where B2B companies can learn more about highly effective online marketing tools and techniques. "This is seriously exciting stuff," said founder and CEO, Mark York. "We've been working on the site for a while and it really shows everything we can do for the B2B marketplace online."
ROIGROUP's new website reveals the history of the company that brought all the pieces together and the philosophy behind a more practical and turnkey approach to Internet marketing. But beyond that, the new site showcases the unique offerings and resources that have been specifically designed for the challenges and objectives of industrial businesses, wholesalers and other business-to-business companies. These tools include specialized software called the ROISUITE that enables companies to easily customize their website, host their own e-commerce catalog and request for quote capabilities, and includes special add-on modules that can be modified according to the ever-changing needs of the modern B2B company.
While the offerings include some of the newest tools and technology that are adjustable to specific service and sales practices, the reason behind these offerings has been integral to ROIGROUPs marketing methodology since the company was founded in 1999. "Up to the launch of the new site, we've come a long way. We are still helping our clients get found by search engines and grow their businesses with methods that work," explained Mark York. "Industrial companies are different from other online sellers. They need something that's easy to use, speaks to their marketplace, and really delivers on their investment. There's a reason why ROI is right in our company name."
Many industrial product and service providers, as well as wholesalers, have long relied upon ROIGROUP for website platform development, SEO content and analytics, and online authority building services. Newly expanded and improved software packages that comprise the ROISUITE will allow business owners and industrial suppliers to benefit from these and other services in a whole new way. The dynamics of ROISUITE allow users to gain even more control and power as they build their online presence and further their ability to satisfy their own customers' needs. As explained on the new ROIGROUP website, all of these tools are meant to be affordable and scalable so that even the smallest business or individual entrepreneur can benefit.
As CEO Mark York elaborated, "For us, this is about more than just selling our services. We wanted to create something that actually works for B2B companies and grows with them. We've always been about quality and doing things the right way for our clients, and now we'll have even greater opportunity to do that."
About ROIGROUP
ROIGROUP specializes in the research, development and innovation of Internet marketing strategy and solutions for B2B companies. Their offerings include and reach beyond website platform development, line-item catalog building and SEO based marketing. For more information on ROIGROUP's tools and approach to industrial marketing online, visit: http://www.roigp.com/ .