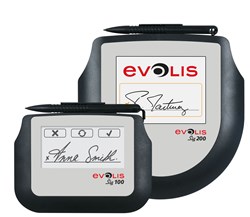 (PRWEB) October 13, 2013
Sig100 and Sig200 are perfect to capture and digitize handwritten signature in high resolution, quickly and securely. They are ideal for many applications requiring a signature as proof of identity or to represent informed consent, including government IDs, business contracts, bank accounts, health care forms and other enrollment forms.
The signature is stored rapidly and can be used immediately on ID cards, forms and documents even when away from the office, all in a 100% digital environment. Sig100 and Sig200 can also be used to record biometric data (handwriting pressure and speed…).
From a usability perspective, Sig100 and Sig200 are compact and thin and have a large screen with a special coating, providing a natural writing experience. The signature is displayed in real time on the screen, and readability is enhanced by a backlit display. The Sig200 model offers a slideshow feature that can display advertising.
The Evolis pads connect easily to any computer via a USB port, with no other connection required. They can be plugged into any work environment, providing a perfect solution for mobile applications. Optional software is available to create PDF documents that can then be signed electronically.
For applications requiring card personalization via Evolis printers, Sig100 and Sig200 can increase the level of security by incorporating a signature directly into the card design.
With these pads, Evolis continues to expand its existing offering on the ID market: "Evolis is recognized worldwide for its card personalization solutions, and signature pads offer many synergies, both in terms of products and markets," says Product Manager Christophe Peraudeau.