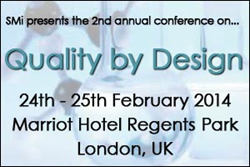 London (PRWEB UK) 11 October 2013
Today more than ever, regulatory guidance is increasingly focusing on the process robustness and product quality. The pharma world is also changing at an increasingly quickening pace. QbD philosophies must be quickly adapted for the development of any innovative products in order to ensure overall integrity.
QbD as a systematic approach enables products and process understanding and control, based on comprehensive science and quality risk management schemes. By understanding a product i.e. by formulation and processes in great detail, systematic approaches can be developed from an early stage to design quality into a product.
This year's Quality by Design will focus on how PAT plays a pivotal role in delivering the successful implementation of QbD validation. Practical case studies will be submitted associated with the potential pitfalls of practical applications, and how to avoid these hurdles. Practical approaches to QbD implementation in solid dosage forms and covering design as an end to end format.
2014 will see us focus on regulatory guidance from the FDA and MHRA and how we can deploy continuous process development - plant wide - into a previous operational plan.
Why attend this event:
•Employ QbD to design a formulation process. Harness raw material analysis and control strategy
•Utilise PAT tools and applications for pharmaceuticals, biopharmaceuticals and ATMPs
•Use risk assessment and management to best effect
•Accurately include QbD information in regulatory document filings, including those for ICH Q8 and ASTM E 2500
•Apply multivariate data analysis to maximise product development and patient outcomes
Key featured speakers:
•Julian Morris, Technical director, Centre for Process Analytics & Control Technology
•Andreas Schreiner, Head Validation Manufacturing Science & Technology, Novartis
•Marcel de Matas, Principal Scientist Formulation Science, AstraZeneca
•Frank Thielman, Operational Lead Inhalation New Solids, Novartis
•Martin Schubert, Head of Chemical Pharma Development, UCB
•Michel Ulmschneider, Senior Scientist, F Hoffman - La Roche A G
•Simeone Zomer, Technical Manager, GlaxoSmithKline
•Peter Boogaard, Director, Industrial Lab Automation
Plus an interactive half-day post-conference workshop: Successfully Implementing Quality by Design: An introductory Workshop QbD & PAT, hosted by Peter Boogaard, Founder, Industrial Lab Automation. Wednesday 26th February 2014, 9.00am – 13.00pm, Marriott Hotel Regents Park, London, UK.
For more information on the programme and speakers please visit http://www.smi-online.co.uk/2014qbd-conference7.asp or contact Fateja Begum on +44 (0) 20 7827 6184 or email fbegum(at)smi-online(dot)co.uk.