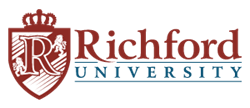 (PRWEB) October 24, 2013
Richford University is one of the top five universities for MBA students according to a recent report published by World Wide Academics, a global education portal, for offering the best online MBA programs in the MENA region. Only regional degree-granting business programs that are 100 percent online were considered for the survey and Richford University ranked fifth in the online MBA degree category.
"The University is proud of this honor as it reflects our ongoing commitment to business students worldwide," said Dr. Hannah Goodwin, Dean of Business and Management School at Richford University. "Since our inception, we have been helping thousands of students across the globe earn quality degrees as they continue working full-time and cater to personal commitments. We take great pride in offering fully accredited degree programs that are respected by international employers."
Educational institutions included in the survey were numerically ranked for housing regionally accredited programs, primarily evaluated on academic quality, accessibility and enrollment rates. World Wide Academics launches popular yearly surveys; however, this announcement came in the quarterly regional assessment report specifically created for the Best Online MBA Programs of 2013 in MENA. Secondary evaluation factors included a broader range like faculty credentials, student facilitation programs, high graduation rates and career counseling services.
"The methodology for rankings require involvement of three key factors that promote educational benefits to individuals based in the MENA region," added Robert Tran, Presiding Officer of the regional survey board at World Wide Academics, "Institutions have to be certified for participating actively in the regional literacy development, be members of GACBE and offer easy credit transfer at degree course level as listed by MEAC."
In addition to offering accredited online MBA degree programs, the University is also working with EDUCAUSE for identifying low literacy rate in the region and filling the gap, between students and education, left by financial constraints with easy financial aid support. Richford University's online classrooms offer a seamless learning experience, allowing students to study from anywhere in the world at anytime. "Richford University is proud to be a leader in online MBA programs," added Dr. Hannah Goodwin "We are proud to have made the top five rankings for the MENA region and know that it is only a matter of time before our distance learning services are making waves all over the world."
About Richford University
Richford University is a well-respected online university, providing higher education opportunities to students and working adults across the globe. With its 16 specialized schools offering flexible online degree, diploma and certificate programs in 71 diverse majors, it stands as a leader in distance learning. Student and alumni services offered by Richford University include credit transfer, financial aid, career placement, Apostille and Embassy Legalization services amongst others.