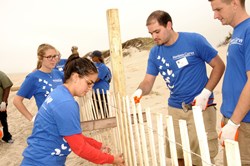 Seaside Park, NJ (PRWEB) October 11, 2013
Horizon Blue Cross Blue Shield of New Jersey employees, their families and friends volunteered to clean up Island Beach State Park from the still-lingering effects of Superstorm Sandy. For the company's annual "Day of Caring," more than 220 volunteers mobilized last Saturday, October 5, to install protective storm fencing, remove beach debris, repair damaged walking trails and restore other storm-ravaged areas of the State park.
"Many Horizon employees live in towns and homes that were adversely impacted by Sandy," said Jonathan Pearson, Director of Corporate Philanthropy and Community Affairs at Horizon BCBSNJ. "Our volunteer efforts help the ongoing recovery so everyone can enjoy the beautiful beach communities along the Jersey Shore. The Day of Caring is another way our company can contribute to communities and improve the quality of life for New Jerseyans."
Jersey Cares helped organize the volunteer day by providing supervisory and organizational support at Island Beach State Park. This year, Jersey Cares will embark on its 18th annual coat drive to help New Jersey residents in need. Horizon employees helped to kick off this drive by bringing gently used coats to the Day of Caring.
Additional information about Horizon BCBSNJ's charitable and volunteer work can be found in the company's 2012 Corporate Citizenship Report.
About Horizon Blue Cross Blue Shield of New Jersey
Horizon Blue Cross Blue Shield of New Jersey, the state's oldest and largest health insurer, is a tax-paying, not-for-profit health services corporation, providing a wide array of medical, dental, and prescription insurance products and services. Horizon BCBSNJ is an independent licensee of the Blue Cross and Blue Shield Association, serving 3.7 million members with headquarters in Newark and offices in Wall, Mt. Laurel, and West Trenton. Learn more at http://www.HorizonBlue.com.
About Jersey Cares
Jersey Cares is a dynamic nonprofit organization that meets community needs by making volunteering in New Jersey easy and meaningful. Jersey Cares works directly with local nonprofit organizations and schools, identifying their needs and training volunteer leaders to manage projects that address them. Jersey Cares volunteers have provided thousands of hours of service to communities, including: mentoring troubled teens, reaching out to isolated seniors, working with the mentally and physically challenged, restoring the environment and assisting children with their schoolwork. Jersey Cares offers meaningful volunteer opportunities that showcase the rewards of civic engagement and address some of our communities' most serious needs. For more information, please visit http://www.jerseycares.