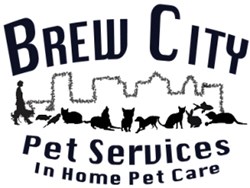 (PRWEB) October 11, 2013
Passion and the entrepreneurial spirit, along with a genuine love for animals, were the building blocks for Brew City Pet Services, LLC in 2012. Owner and animal enthusiast, Stephanie Lefever is thrilled to tell her success story, a year after opening this Milwaukee pet care service. Pet owners view their furry or feathered friends as valued members of the family, and want to see them cared for whenever they cannot provide their own hands-on attention. This is why in-home pet care is a unique and important service, as most pets are happiest within the comfort of their own home.
Since October 2012, Brew City Pet Services has offered affordable pet sitting in Milwaukee and provides care for dogs, cats, small animals and reptiles. The main pet care services include daily dog walks, feeding and refilling of all water dishes, attention and play time, as well as the cleaning of any messes. Lefever and her team not only wish to offer quality in-home pet care, but also maintain reasonable prices. Brew City Pet Services, LLC offers some of the most affordable dog walking rates across the greater Milwaukee area.
There weren't many growing pains throughout the last year, as owner of Brew City Pet Services, Stephanie Lefever, utilized her business background to build the company and cultivate success. She turned an unfortunate job layoff into an opportunity. "Many people have great ideas or wish they could do what they love. Having been prepared for the coming layoff, I decided it was time to do what I love, which is to work with animals and help people."
All pet parents are encouraged to contact Brew City Pet Services, LLC for pet sitting and dog walking services in Milwaukee. Brew City Pet Services operates Monday through Sunday, from 7 AM – 9 PM, and is open on all holidays. To schedule a free consultation, call 414-502-7387, at least two weeks prior to the need of pet services. During a consultation, owners will meet the sitter to discuss the specifics and evaluate the pet's behavior and needs.