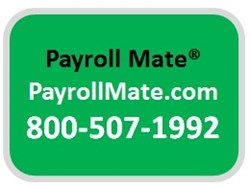 Payroll Mate software is easy to use, affordable and always up to date.
Chicago, IL (PRWEB) October 11, 2013
Columbus Day is Monday, October 14th. In recognition of this US holiday, Real Business Solutions (http://www.realtaxtools.com/) is offering 2014 Payroll Mate at a sale price of $90 only until the end of the month. By using in-house payroll software like Payroll Mate, employers can save thousands of dollars each year on payroll service fees and charges.
Each year thousands of small businesses and accountants trust Payroll Mate to process hundreds of thousands of accurate payroll checks while saving money, valuable time and energy. By using Payroll Mate, small business owners can save valuable time, reduce cost, increase efficiency, reduce headaches, improve filing and payment accuracy, tighten records security and avoid harsh penalties.
Employers and accountants can try Payroll Mate absolutely free by downloading a trial at:
http://www.realtaxtools.com/download-payroll-mate-payroll-software.html
Summary of Payroll Mate features:

Exports payroll data to popular accounting software including Peachtree (Sage 50), QuickBooks, Quicken, Microsoft Accounting and more.
Supports different types of pay periods including weekly, biweekly, semimonthly and monthly.
Features tailored to non-profits, restaurants, churches, trucking companies, farms and more.
Automatically calculates federal and state payroll tax withholding.
Ability to email paystubs.
Supports customizable payroll income, tax and deductions categories.
Supports payroll vacation accrual and sick pay accrual.
Supports the following payroll forms: 941, 940, 944, 943, W-2, W-3, California DE-9, California DE-9C, Texas C-3 , Texas C-4, New York NYS-45, Illinois 941 and Illinois UI-3/40.
Prints IRS 1099 and 1096 forms (Great for businesses that hire contractors).
Supports income per mile and per piece (great for farms and trucking companies).
Exports payroll reports to Excel, CSV and PDF.
Prints on Laser and Inkjet checks.
Prints on preprinted scannable W2 forms and W3 forms.
Generates comprehensive reports including payroll journal, tax liability and deposit requirement.
Generates Direct Deposit ACH Files.
Prints MICR checks on blank check stock.
Payroll Mate is ideal of small business and accountants. To learn more about Payroll Mate, follow the link below:
http://www.realtaxtools.com/payrollsoftware/payroll_software.html